The Best Mediterranean Meal Kits for 2020
For original article click here
One area of the world that is particularly noted for its wholesome eating habits is the Mediterranean. Particularly, the inhabitants living around Greece, Spain, and the southern neighborhoods of Italy have learned the secret of longevity, fitness, and feeling (and eating) great. This discovery has launched the trending Mediterranean diet, a habit of eating that is quickly gaining popularity among those who want to eat healthier, live a more virulent lifestyle, and still enjoy their culinary delights.
By the way, if you were looking for reasons to make the switch, the Mediterranean diet has many health benefits and has been linked to lower episodes of heart disease, certain cancers, diabetes, and other chronic illnesses. It also helps maintain a healthier blood pressure and lose weight.
The Mediterranean diet encourages eating large quantities of healthy fats and carbs such as olive oil, unrefined whole grains, and loads of fresh fruits and veggies. Alternatively, you'll want to keep certain proteins to a minimum like red meats. The Mediterranean diet also recommends eating plenty of fish and cheese and yogurt in moderation. And the best part, enjoy your meals with a nice cup of wine!
But there's a catch. Coming up with ideas, shopping for, and preparing a consistent Mediterranean diet is time-consuming and challenging for most people with a life. The solution? Mediterranean diet meal kit delivery services. Whether the company specializes in the diet or just has enough options to satisfy your palette, meal delivery kits provide you with a convenient, affordable, and feasible way to stick with the Mediterranean diet. You get all of the ingredients you need, full recipes with instructions, and a wide selection of delectable meal options delivered straight to your door. There's no planning, no spending time at the grocery store, and most meals can be prepared in 30 minutes or less. If you're thinking of making the important, healthy living choice of switching to a Mediterranean diet, choosing one of the best meal kit delivery services can be just the thing you need to make it happen.
Here are 10 of the best options for meal kit delivery services that feature Mediterranean diet-friendly meals and plans:
1. HelloFresh
Pros
Affordable plans and family plan
Lots of meal options
Large portion sizes
Cons
No exclusive Mediterranean plan
Have to pay for shipping
3, 4, 5 times a week
$10.99/serving
$8.99/serving
HelloFresh is a meal delivery service with high popularity ratings. The service is known for its friendly green branding, but even more for its friendly customer service. And Mediterranean dieters will particularly like this service for its menu selection. Unlike many other meal delivery services, HelloFresh has a tremendous variety of meal options that it changes up every week. So, there's no fear of the same meal boredom setting in. Not to mention the large portion sizes you'll enjoy from these meals. So, you are getting a huge plate of food with everything you can and should be eating as per your Mediterranean diet.
HelloFresh has a lot of vegetarian meal options as well, like its curried chickpea bowls or tortilla mushroom melts. There's also a lot of flexibility in the ordering process. Choose from 2 or 4 people plans with 2, 3, or 4 recipes. Kits come with everything you'll need to create a feast for you and your family. Meal options range from 20-minute meals to international tastes, and a big favorite, one-pot wonders. There's even a kid-approved menu for finicky eaters.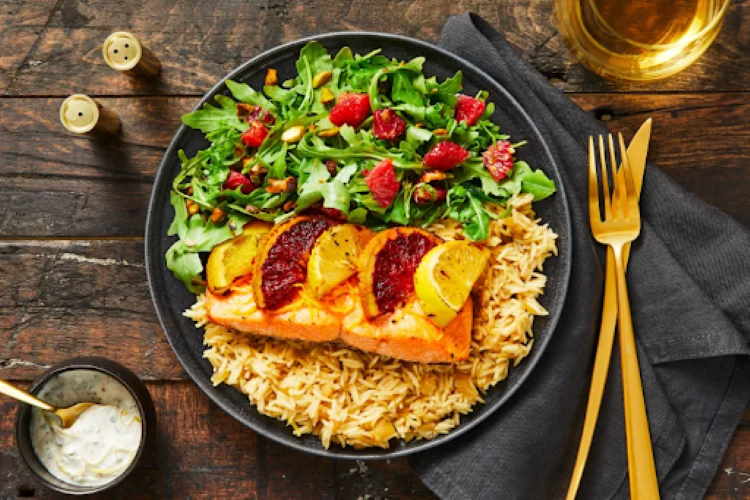 Favorite HelloFresh Dish for Mediterranean Diet: Slow-Roasted Citrus Trout with Chive Crème Fraîche, Rice Pilaf & Blood Orange Pistachio Salad
These juicy steaks of trout are layered with lemon and blood orange slices for a zesty flavor. The fish is slow-roasted in a chive creme fraiche sauce and served with a savory rice pilaf and salad.
Read the full HelloFresh review

HelloFresh View Plan
2. Sun Basket
Pros
All healthy, organic-certified ingredients 
Tremendous selection
Meals in as little as 6 minutes
Cons
Some recipes are more complicated than others
Doesn't ship to HI, AK, and parts of ND, MT, and NM
Price per serving for 2 people
$11.99
N/A
Price per serving for 4 people
$11.99
$10.99
Number of recipes per week
3
2, 3, 4 depending on your choice
Number of recipes you can choose from each week
18
6
Sun Basket is a slightly different meal kit delivery service, and that difference really caters to high protein eaters. You can mix and match your menu as much as you'd like. Meaning, you can order ten plates of protein (and no carbs) if that's what you want. This is a fantastic option for people who don't mind cooking their own sides but can't be bothered making a salmon steak or roasting a chicken. What's more, Sun Basket is one of the only organic-certified meal delivery services. That means all ingredients are as fresh, healthy, and delicious as if you picked them from the farm yourself. No antibiotics, artificial hormones, or other junk. It's all responsibly-sourced and humane.
Best of all, Sun Basket even has a Mediterranean diet meal plan with exactly what you want to eat on this diet. This Mediterranean diet-friendly meal delivery has tons of options, too. Choose from delectable seared shrimp paella, lemon pepper skinless chicken breasts, ancho-rubbed salmon fillets, and more. Sun Basket also caters to a lot of other dietary preferences. So, if you're going gluten-free, need a diabetes-friendly meal, or are vegan, Sun Basket has got you covered. The Mediterranean diet calls for a lot of healthy fats and is heavily plant-based. Sun Basket has a wide range of options, including Mediterranean-style tempeh, quinoa bowls, orecchiette, and many more.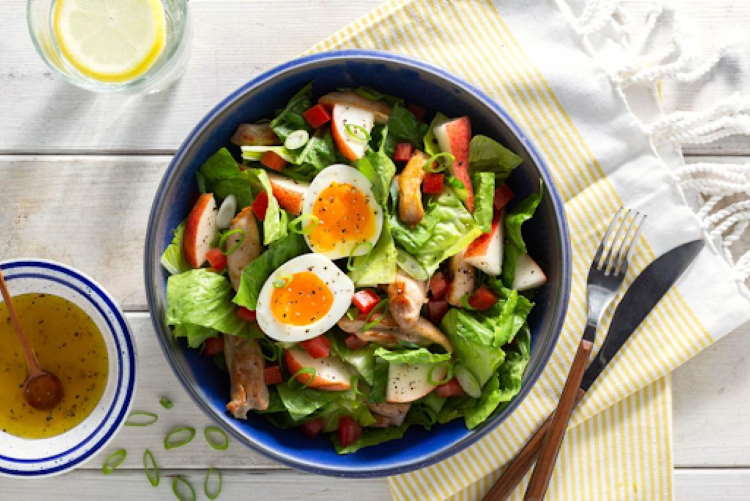 Favorite Sun Basket Dish for Mediterranean Diet: Green salad with chicken, pear, and soft-cooked eggs
Not only is this a great Mediterranean option, but the chicken salad is also gluten-free, soy-free, and carb-conscious. Enjoy this fresh and light meal that comes with tender chicken, juicy tomatoes, and heart-healthy eggs.
Read the full Sun Basket review

Sun Basket View Plan
3. Home Chef
Pros
One of the cheapest options
38 meal options weekly
Double up on the proteins option
5-minute meals
Cons
Free shipping only starts at $100 orders
Must order at least two servings
Average meal
$6.99 per serving
Home Chef is the go-to meal kit delivery option for regular people. You know, the ones who don't have a lot of time, aren't looking for complex culinary endeavors, and don't want to spend a lot of money just because they've decided to eat healthier. If you fit that bill, then Home Chef is a great way to fit Mediterranean dieting into your regular lifestyle. This company has meals that take under half an hour to prepare, and some are ready in as little as 5 minutes!
Menu options include things like low-cal, carb-conscious, vegetarian, quick and easy, and adventurous. And best of all, for Mediterranean eaters, Home Chef has a protein pack called Seafood Sampler that includes 24 oz of scallops and 24 oz of shrimp. Home Chef is also a great option because it is so affordable. Meals are roughly $6.99, and you get everything you need.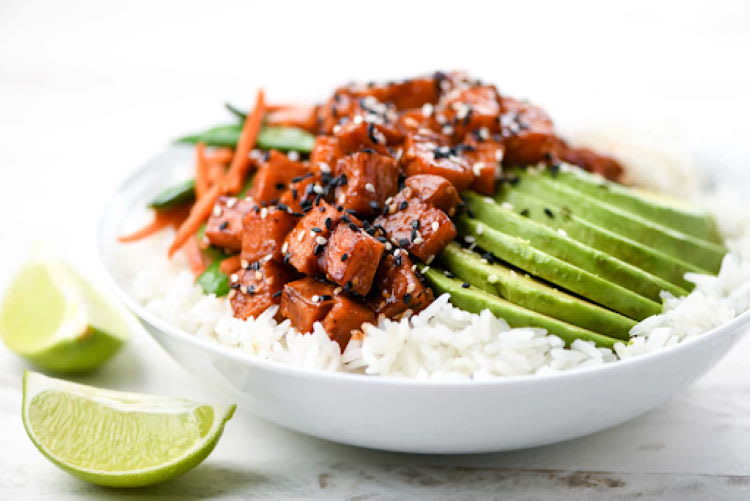 Favorite Home Chef Dish for Mediterranean Diet: Sesame Sweet Potatoes and Avocado with snap peas and jasmine rice
This completely vegetarian-friendly dish is also a great Mediterranean option. It's filled with healthy ingredients like avocado, sweet potato, and garlic. And the sesame sauce combined with sriracha will make your palette sing.
Read the full Home Chef review

Home Chef View Plan
4. Blue Apron
Pros
Mediterranean-specific plan
Family and cost-effective plans
Lots of fun extras
Cons
2-servings, 2x weekly shipping isn't free
Fewer choices than most
Price per serving 2x week
$9.99
$8.99
$9.99
Price per serving 3x week
$9.99
$7.99
$9.99
Price per serving 4x week
N/A
$7.49
N/A
Blue Apron was designed for the Mediterranean dieters. No, literally, the meals are based on that diet plan. So, if your goal is to stick to the MD, this is the best place to start. All meals are chef-designed too, so you're eating like a five-star restaurant every night. Blue Apron packs responsibly-sourced proteins and fresh produce into every meal, and it tosses in an exclusive spice blend for a real flavor kick. Starting at $7.49 a serving, Blue Apron is also incredibly affordable, and its family plan makes healthy eating available for the whole family.
Blue Apron accommodates a wide range of dietary preferences and allergies as well, including vegetarians, pescetarians, and gluten-intolerance. Another Mediterranean-friendly feature of this meal kit delivery service is its wine program. Blue Apron offers members access to exclusive wine collections from renowned winemakers and vineyards, pairing tips, tasting notes, and a specialty bottle size that's just right for two. Another cool feature of this company is the Blue Apron Market. Here, you can buy kitchen tools and spices that are used and recommended by the top chefs that create the culinary delights you are ordering each week.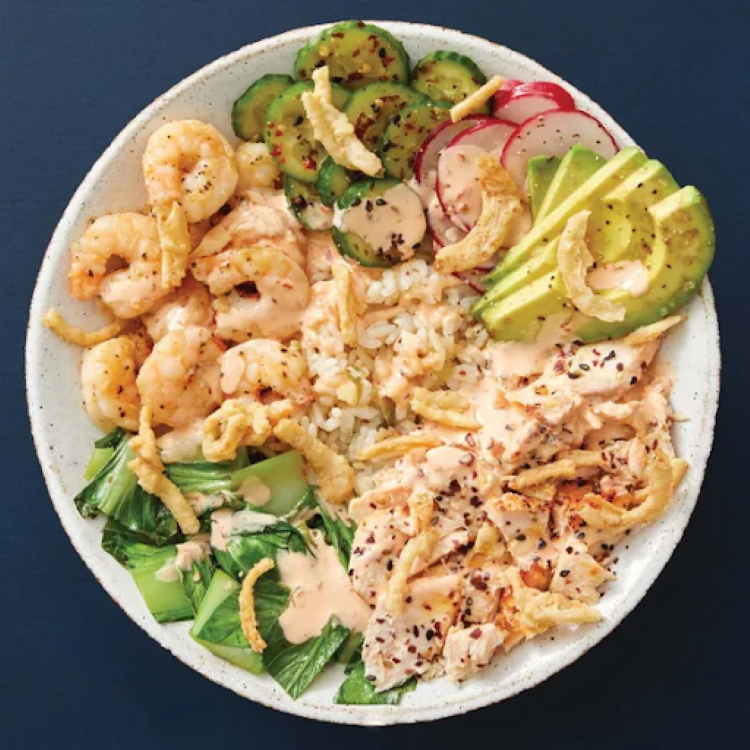 Favorite Blue Apron Dish for Mediterranean Diet: Salmon & Shrimp Poke Bowl with Avocado & Spicy Mayo
Your mouth might feel like it's going out for sushi with this poke bowl recipe from Blue Apron. The dish features your classic sushi rice and tops it off with a heaping serving of shrimp and salmon. Then, it's all seasoned with a sesame oil and furikake dressing and served with avocado, veggies, and crispy onions that have a sambal mayo and sweet and tangy soy-lime sauce.
Read the full Blue Apron review

Blue Apron View Plan
5. Green Chef
Pros
USDA-certified organic
Mediterranean-friendly meal plan
Lots of options to choose from
Cons
No a la carte ordering
Confusing pricing structure
2-Person Plan: 1 box contains 3 dinners for 2 people (6 meals/servings total per box):
Keto
Starting at $12.99 per meal
Paleo
Starting at $12.99 per meal
Balanced Living
Starting at $11.99 per meal
Plant-Powered
Starting at $9.99 per meal
Green Chef is another USDA-certified organic meal kit delivery service. That means it uses the best ingredients out there, from wholesome, clean produce to sustainable proteins. There are no synthetic chemicals or preservatives in these meals, and Green Chef supports local and artisanal suppliers. Bottom line, you are getting top quality food from every one of these meal kits. What's more, Green Chef maintains clean and safe health standards within the FDA, USDA-certified kitchens.
Green Chef has flexible subscriptions that let you pause, skip, or cancel at any time. In terms of variety, there's plenty to choose from. Green Chef has a menu called Balanced-Living. This is a great Mediterranean diet plan, filled with various protein options like pineapple teriyaki salmon, chicken rice bowl, shaved steak fajita salad, and even creamy truffle and mushroom linguine. You can also try out the other meal plans like keto-friendly, vegetarian, or paleo in case you're curious.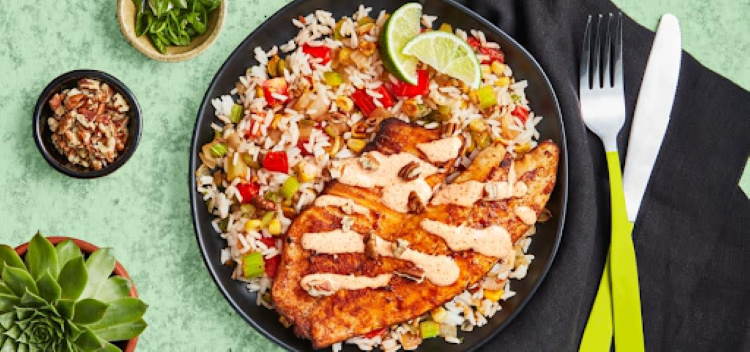 Favorite Green Chef Dish for Mediterranean Diet: BLACKENED TILAPIA WITH DIRTY RICE Roma tomato, corn, celery, paprika-Dijon aïoli & pecans
There's everything to love about this recipe. From the flavorful tilapia (tastes just like chicken!) to the crunchy pecans, and the spicy aioli, flavor fans are going to go wild over this blackened tilapia dish.
Read the full Green Chef review

Green Chef View Plan
6. Pangea
Pangea is actually based off of the Mediterranean diet and given a modern-day spin based on scientific research. This meal kit delivery service goes above and beyond ingredients and recipes. Pangea helps you create a lifestyle program to get you to your ideal body in a healthy and maintainable way.
7. BistroMD
BistroMD is all about making weight loss easy and sustainable. These meals are designed by dieticians and chefs, so they're both good and good for you. BistroMD weight loss programs feature more than 200 recipe options, come with personalized weight-loss support, and allow you to order one-off meals for more flexible meal schedules.
8. EveryPlate
EveryPlate offers an eclectic menu of flavors that anyone would love to devour. And these tasty treats are ready to go in just thirty minutes (or less). What's more, EveryPlate meals cost just $4.99 a serving, making them the most affordable meals on wheels out there. EveryPlate meals are also easy to make, with just 6 simple steps to follow.
Read the full EveryPlate review
9. Dinnerly
What's better than $4.99 per meal? $4.29 per meal! That's how much Dinnerly meals cost. So, no one will ever have to worry about pricing when it comes to delicious, home-cooked meal kit deliveries ever again. Dinnerly has a whole slew of scrumptious menu options to choose from, and it changes weekly. So, you'll never have to hear (or think!) "oh that for dinner again!".
10. Martha & Marley Spoon
Hailing from the queen of craft and cooking herself, Martha (Stewart) & Marley Spoon serves up the most thrilling, gourmet, and taste bud-tantalizing meal kits you'll ever see. Bold, colorful recipe cards come with every meal, along with premium-level ingredients like artisan cheeses, whipped herb ricotta, and yakiniku sauce. If you are looking to really kick things up a notch, M&MS is the way to go.
Read the full Martha & Marley Spoon review
How Meal Delivery Services Work
Meal delivery kit services are becoming more and more common in our busy society. With no time to shop for and cook healthy meals for ourselves and our families, consumers are turning to these services as an alternative to the unhealthy, fast food meals we tend to settle for because of a lack of options. Here's a brief look at how these services work:
Meal delivery services can be separated into two categories: the ones that offer ready-made meals and the ones that deliver meal kits that you put together yourself. Both are more convenient , so it's really just a question of your preferences and how much time you have to spend on cooking.
Once you've decided on which type of service you want, the ordering process is generally the same across the board. Most meal delivery services require you to choose a plan and sign up before you can choose your meals. You can look at the various menu options, though, to get a taste of what meals they have to offer.
Once you've signed up, you'll browse through the menu to find options that you like. Careful, these meals all look delicious! Select your favorite meals and place them in your cart. Confirm your order, and the meals will be shipped to you right away.
Meal delivery services offer recurring orders, so you can get new meals delivered every week, two weeks, or monthly depending on the service and your preferences. You can also pause or cancel recurring orders without remorse.
How to Choose the Correct Meal Delivery Service
Meal delivery services vary in many ways. Here are a few ways to narrow down the choices and ensure you're getting the right one for you:
Menu selection: Make sure there are enough options for you to feel satisfied with.
Dietary preferences: Make sure they have the type of food you are looking for.
Shipping policies: Make sure they ship to you and on a convenient schedule.
Customer service: Make sure they're friendly, available, and willing to work with you.
Subscriptions: Make sure they're flexible and work with your preferences.
Tips for Saving Money With Meal Delivery Services
Ordering meal delivery kits can actually help you save money, according to several studies. Here are a few ways to keep the costs down while ensuring that your Mediterranean diet remains consistent:
Shop meal kits only. Avoid grocery stores. This is the big budget-saver. Supermarkets make us spend more money using enticing advertising, smart product placement, and psychology. When you order kits or meals, you only get what you want and need and skip all the extra spending.
Buy in bulk. Many meal delivery services offer discounts for bulk ordering. So, the more you order, the more you save. You can order more meals and freeze them for lunches during the week.
Skip a week. If you feel like you cannot afford a weekly regiment of meal deliveries, just pause your account for a week, or have the meals delivered every other week. This will give your bank account a bit of a breather while still ensuring that you maintain your healthy Mediterranean diet and lifestyle.