Skinny Mediterranean-Style Chicken and Pasta
For original article click here
Print

941

Save

242

Pinterest

250

Email

84

Facebook

37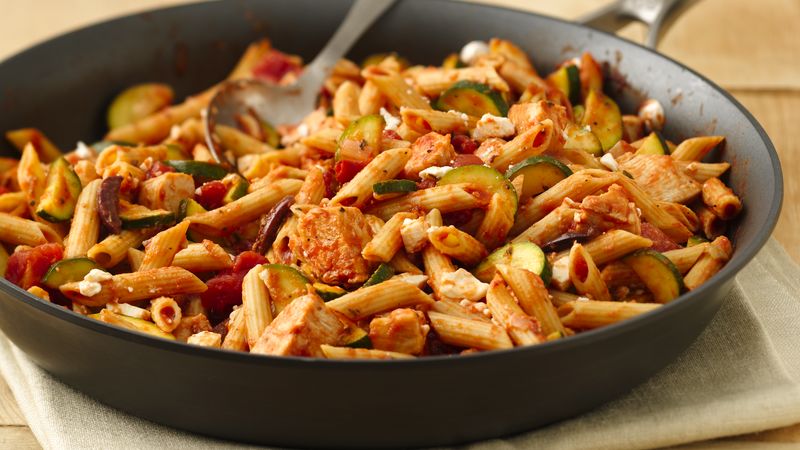 Prep 25 min
Total 25 min
Servings 6
44% fewer calories • 76% less fat • 83% less sat fat than the original recipe. Have a few minutes? Create a taste of the Mediterranean with deliciously easy ingredients.
Ingredients
2 cups uncooked multigrain penne pasta (6 oz)
2 teaspoons olive or canola oil
1 small onion, chopped (1/3 cup)
2 medium zucchini, cut in half lengthwise, then cut crosswise into 1/4-inch slices
2 cloves garlic, finely chopped
2 cups 3/4-inch pieces cooked chicken breast
1 can (14.5 oz) Muir Glen™ organic no salt added diced tomatoes, undrained
1 can (8 oz) Muir Glen™ organic tomato sauce
1/2 teaspoon dried oregano leaves
1 teaspoon dried basil leaves
1/4 cup pitted Kalamata olives, quartered lengthwise
3/4 cup crumbled reduced-fat feta cheese (3 oz)
Steps
1

In 4-quart Dutch oven, cook and drain pasta as directed on package, omitting salt. Return to Dutch oven; cover to keep warm.

2

Meanwhile, in 12-inch nonstick skillet, heat oil over medium heat. Add onion; cook 3 to 4 minutes, stirring occasionally, until crisp-tender. Add zucchini and garlic; cook 2 minutes. Stir in chicken, tomatoes, tomato sauce, oregano and basil. Reduce heat to medium-low; simmer 5 to 7 minutes, stirring occasionally, until zucchini is tender and mixture is hot. Stir in olives.

3

Pour chicken mixture over pasta. Top with feta cheese; toss to coat.
We've replaced ingredients with great-tasting alternatives to create better-for-you recipes that are just as yummy as the originals.
If you want to reduce the cost of this recipe, sliced black olives can be substituted for the Kalamata.
Prepare the veggies and cook the chicken ahead of time; cover and refrigerate until you're ready to make the recipe.
Nutrition Facts
Serving Size: 1 Serving
Calories 270 Calories from Fat 60 Total Fat 7g 10% Saturated Fat 2g 9% Trans Fat 0g Cholesterol 45mg 14% Sodium 540mg 22% Potassium 510mg 15% Total Carbohydrate 29g 10% Dietary Fiber 4g 17% Sugars 7g Protein 23g Vitamin A 10% 10% Vitamin C 15% 15% Calcium 10% 10% Iron 15% 15%
Exchanges:
1 1/2 Starch; 0 Fruit; 0 Other Carbohydrate; 0 Skim Milk; 0 Low-Fat Milk; 0 Milk; 1 Vegetable; 0 Very Lean Meat; 2 Lean Meat; 0 High-Fat Meat; 0 Fat;
Carbohydrate Choice
2
*Percent Daily Values are based on a 2,000 calorie diet.
© 2021 ®/TM General Mills All Rights Reserved