New views about the Mediterranean diet
For original article click here
Popular ideas about the Mediterranean diet are reviewed and questioned with respect to regional data on food intake and cultural diversity. With the UNESCO declaration of the Mediterranean diet as an Intangible Cultural Heritage, a far more holistic approach to food habits and environmental patterns has been developed.
The Mediterranean is a sea and can refer to the land around it, and the word 'diet' refers to food and drink consumed, with nutrition and a persistent pattern usually implied. Yet, the now widespread concept of the 'Mediterranean diet' has gained a most intriguing specificity to it.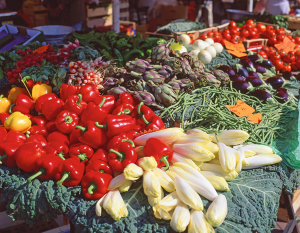 Credit: Greg Balfour Evans / Alamy Stock Photo
Beginning in the latter half of the twentieth century, the concept of the Mediterranean diet can be attributed to Ancel Keys and colleagues and their epidemiological research into diet and cardiovascular diseases1. Their work stimulated further medical research over the following decades, much of which was successfully filtered to the general public. Discussions in the United Kingdom, Australia2 and the United States showed a fairly consistent anglophone concept of a Mediterranean diet, as people listed similar foods.
However, it is important to note that the Mediterranean diet of Keys and colleagues was based on restricted food studies conducted in just a few northern Mediterranean sites in the late 1950s and 1960s, as part of the worldwide Seven Countries Study1. Today, there are 22 nation states and great cultural diversity around and within the Mediterranean. Whereas the spread of wine, wheat and olive oil around the Roman empire is well known, many other influences from the Middle East, Africa and Europe have since affected the food habits of the region. Not only have invasions, religious conversions and colonialism affected the cultures of different areas, but many food items that are common today were also introduced from across the world. For example, tomatoes, potatoes, maize, peppers and turkey were introduced from the Americas, and rice, peaches and oranges from East and Southeast Asia. Culinary practices have also been imported. As one example of cultural diversity, pork, shellfish and wine are specialities in some modern Mediterranean societies but are forbidden in the religions of others. Although globalization and multinational food corporations may induce homogenization, diversity still very much exists.
Despite the antiquity of communication and trade across and around the Mediterranean Sea, there has been and remains considerable diversity in food intake between and within those nation states. Studies of the food habits of four adjacent French and Spanish populations on either sides of the Franco–Spanish border (one pair in a Pyrenean valley divided by the border and another pair on the Mediterranean coast) during the 1990s showed significant statistical differences in food intake between the populations, primarily according to nation state3. Importantly, the studies also revealed a clear divergence from the popular anglophone concept of the Mediterranean diet. Meat was eaten as regularly as in northern populations by all four study populations, and far more often than fish2; consumption of potatoes exceeded that of pasta; beer was drunk as much as wine; a large bowl of milk was traditional in the mountains for breakfast; and cheaper vegetable oils were usually used instead of olive oil for cooking in Spain, and butter often in France. Cultural diversity in food habits clearly existed in close proximity even within southern Europe, and the diets of these populations differed significantly from that suggested by the nutritional epidemiologists' concept of the Mediterranean diet, as other studies have noted4. At the time, little attention was paid to these results. Furthermore, since the studies of Keys, food costs and shopping habits have been revolutionized, affecting the diets of Mediterranean people at all socio-economic levels.
Also in the 1990s, social anthropologists argued that any discussion of food habits must fall within the framework of the societies that produce and recreate them, and therefore within specific sociocultural systems that differ not only between nations, but between regions and even identities within nations5,6,7,8. As a result, dietary diversity around the Mediterranean should be expected.
In showing that cultural diversity exists, however, one must not deny the validity of much of the large body of biochemical and epidemiological research into the health benefits of items that feature in the popular concept of a Mediterranean diet that is viewed primarily as a model for healthy behaviour. In addition, as consumers, industry and advertisers pay attention to scientific claims about healthy eating, any increase in the recognition of these health benefits may affect cultural choices within Mediterranean populations, self-fulfilling the popular concept despite previous diversity — even though no food can be artificially included and maintained over time if it does not fit well into local cultural habits and processes. These matters emphasize the value of a biosocial, cross-cultural and cross-disciplinary approach to dietary studies.
A new and far more holistic approach to the topic has developed. Although the naming of a region is a sociocultural and political construct, geographic proximity around the Mediterranean Sea means that shared environmental and climatic features — from water shortages on land to reduced fish stocks in the sea — present equivalent benefits and risks for the sustained production and availability of foods. In this context, the concept of a Mediterranean diet is undergoing a transformation to recognize different food cultures and linked ecology. This might be described as a Mediterranean cultural food system or a Mediterranean culinary system9,10. In line with this broader view, the Mediterranean diet was declared an Intangible Cultural Heritage of Humanity by UNESCO in 2010; this initially involved work with four countries (Spain, Italy, Greece and Morocco), with three additional countries (Cyprus, Croatia and Portugal) included from 2013. In the candidacy for this declaration, the definition of the Mediterranean diet was deliberately inclusive of all disciplinary perspectives concerning food provision and habits around the Mediterranean, and no single food item was identified11. Not just the diversity but also the complex network of interdependences — cultural, environmental and economic — are relevant to the patterns in question.
In summary, a concept from north of the Mediterranean Sea and linked to health has been updated to a reflection of the different food cultures and lifestyles around a much larger region12,13, with the ambition to recognize the urgent need for action to preserve the techniques, practices, habits, ideas and values involved in the food cultures, and to safeguard the sociocultural heritage of each community. Since 2012, supported by the Food and Agriculture Organization of the United Nations, this holistic biosocial approach has been redirected towards achieving food sustainability through culture13. A more analytical approach to the meaning of sustainability may present a challenge between objectives, as to sustain any variable in a changing ecosystem (for example, due to climate change), there must be flexibility for change somewhere else in the system14. That flexibility may need to involve change in techniques or practices, but ideally it can be achieved in some way that still preserves heritage and maintains food security.
References
1.

Keys, A. Circulation 13, 249–253 (1956).

2.

Macbeth, H. Rivist. Antropol. 76, 307–313 (1998).

3.

Macbeth, H. in Human Populations: Diversity and Adaptation (eds Boyce, A. J. & Reynolds, V.) 233–251 (Oxford University Press, 1995).

4.

Ferro-Luzzi, A. & Sette, S. Eur. J. Clin. Nutr. 43, 13–29 (1989).

5.

González Turmo, I. in Antropología de la Alimentación: Ensayos Sobre la Dieta Mediterránea (eds González Turmo, I. & Romero de Solís, P.) 29–47 (Fundación Machado, 1993).

6.

Medina, F. X. in La Alimentación Mediterránea: Historia, Cultura, Nutrición (ed. Medina, F. X.) 21–24 (Icaria, 1996).

7.

Aubaile, F. Rivist. Antropol. 76, 219–228 (1998).

8.

Hubert, A. Tech. Cult. 31–32, 153–160 (1998).

9.

González Turmo, I. in Sabores del Mediterráneo: Aportaciones par Promover un Patrimonio Alimentario Común (eds Contreras, J., Riera, A. & Medina, F. X.) 44–64 (European Institute of the Mediterranean, 2005).

10.

Medina, F. X. Public Health Nutr. 12, 1618–1620 (2009).

11.

Serra-Majem, L. & Medina, F. X. in The Mediterranean Diet: An Evidence-Based Approach (eds Preedy, V. R. & Watson, D. R.) 37–46 (Elsevier, 2015).

12.

Marqués da Silva, A. La Diète Méditerranéenne: Discours et Pratiques Alimentaires en Méditerranée (L'Harmattan, 2015).

13.

Medina, F. X. in Food and Sustainability in the Twenty-First Century: Cross-Disciplinary Perspectives (eds Collinson, P. et al.) 57–69 (Berghahn, 2019).

14.

Collinson, P., Young, I., Antal, L. & Macbeth, H. (eds) in Food and Sustainability in the Twenty-First Century: Cross-Disciplinary Perspectives 1–9 (Berghahn, 2019).
Author information
Department of Anthropology, Oxford Brookes University, Oxford, UK

Helen Macbeth

Faculty of Health Sciences, Universitat Oberta de Catalunya/Open University of Catalonia, Barcelona, Spain

F. Xavier Medina
Rights and permissions
About this article