Mediterranean Diet Meal Plan and Recipes
For original article click here
Mediterranean Diet Meal Plan and Recipes – University Health News
Home » Daily » Nutrition » Mediterranean Diet Meal Plan and Recipes
Following the Mediterranean diet meal plan can protect your health in a vast number of ways: reducing the risk of developing heart disease, type 2 diabetes, high blood pressure, depression, obesity, Parkinson's disease, cancer, and more. But getting started on this program can seem overwhelming, especially if you're used to a steady diet of fast foods or processed foods.
To support your healthy efforts, we've outlined a meal plan for you to follow. The staple foods of the Mediterranean diet include:
Olive Oil (healthy fats)
Fruits and vegetables
Nuts and seeds
Unrefined whole grains
Fish
Legumes
Simple Rules for the Mediterranean Diet
Following the Mediterranean Diet can be best tackled by dividing foods into five categories:
1. Daily (Eat multiple times per day.)
Fruits
Vegetables (excluding starchy corn and potatoes)
Healthy fats (olive oil)
2. Daily (Eat at least once per day.)
Legumes (beans, peas, etc.)
Unrefined whole grains (brown rice, steel cut oats, etc.)
3. Weekly (Eat multiple times per week.)
Fish (wild)
Nuts and seeds (almonds, walnuts, etc.)
4. Monthly (Eat 3 to 4 times per month or less.)
Poultry
Eggs
Organic cheese and yogurt
5. Rarely (Eat only on special occasions.)
Saturated fats from red meat and dairy products (besides organic cheese and yogurt)
Refined sugars and sweets
Luncheon/deli meats
This Mediterranean Diet Pyramid can help you better visualize the types and amounts of foods you should be eating: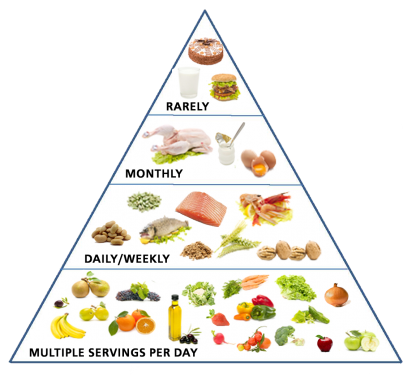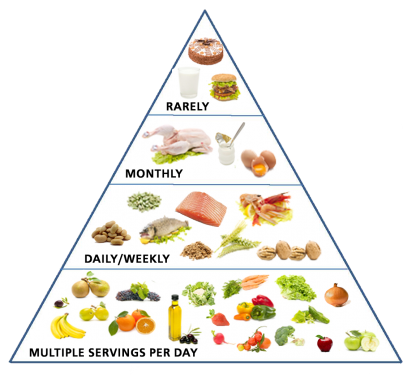 Create a Diet Calendar
Now you know which foods you should be eating regularly, prepare your meal plan by using a weekly or monthly calendar. Look over the list of Mediterranean foods above and choose the items you like best. Here are three examples of daily meal plans to get you started:
SUNDAY:
Breakfast: Fresh Fruit salad and yogurt
Snack: Carrots and hummus
Lunch: Salmon Salad
Snack: Red grapes and walnuts
Dinner: Baked halibut on a bed of brown rice with a side of peppers and onions cooked in olive oil
Snack: Frozen strawberries
MONDAY:
Breakfast: Oatmeal with blueberries
Snack: Almonds
Lunch: Lentil basil soup
Snack: Sliced bell peppers and avocado dip
Dinner: Homemade veggie pizza (recipe below)
Snack: Sliced oranges
TUESDAY:
Breakfast: Breakfast fruit smoothie
Snack: Granola with fruit and nuts
Lunch: Half tuna salad sandwich on rye with side of split pea soup
Snack: Celery and almond butter
Dinner: Grilled shrimp drizzled in olive oil, lemon juice and basil; bed of spinach and fresh tomatoes topped with feta cheese crumbles and sunflower seeds; and side of broccoli, mozzarella cheese and wild rice casserole (recipe below)
Snack: Sliced oranges
Mediterranean Diet Recipes
Homemade Veggie Pizza
For family fun, allow your kids to create their own pizzas.
Spinach tortilla (1 or 2 per family member)
Olive oil
Tomato sauce
Shredded mozzarella cheese
Your favorite veggies
Lay out your spinach tortillas. Drizzle with olive oil and toast for 3 to 5 minutes (just enough to get warm and slightly toasted). Spoon the tomato sauce over the tortillas (as much or as little as you prefer). Add shredded mozzarella cheese. Top with favorite veggies such as bell peppers, onions, tomatoes, and jalapenos or your other favorite toppings (olives, shrimp, turkey bacon, organic beef, etc.).
Broccoli, Mozzarella Cheese & Wild Rice Casserole
1½ cups wild rice
3 cups broccoli
1 small yellow onion, diced
½ teaspoon oregano
½ teaspoon parsley
2 to 4 tablespoons of olive oil
1 package shredded mozzarella cheese
Salt and pepper to taste
Cook wild rice according to package instructions; add salt and pepper to taste. At the same time, steam broccoli until it is tender; then drain. Add 2 to 4 tablespoons of olive oil in a sauté pan and pour the broccoli and diced onions into the pan. Sprinkle with oregano and parsley.  Cook on medium heat until the onions are lightly browned.
Lightly grease a casserole dish with olive oil. Add half of rice in one layer on the bottom of the casserole dish. Layer with half of the broccoli/onion mixture. Layer with half of the mozzarella cheese. Repeat layers – remaining rice, remaining broccoli/onion mixture, and remaining cheese. Cover and bake at 350 degrees for 15 minutes. Remove cover and bake for an additional 5 minutes.
Share Your Experience with the Mediterranean Diet
Do you have a tasty Mediterranean Diet recipe of your own? If so, share your recipe in the comments section below. Let's help each other stay healthy!
Originally published in 2013 and regularly updated.
As a service to our readers, University Health News offers a vast archive of free digital content. Please note the date published or last update on all articles. No content on this site, regardless of date, should ever be used as a substitute for direct medical advice from your doctor or other qualified clinician.
Tags:2 diabetes,add,almonds,blood pressure,breakfast,cancer,carrots,corn,dairy,depression,diabetes,diet,health,healthy fats,heart disease,high blood pressure,mediterranean diet,mediterranean diet meal plan,mediterranean diet pyramid,nuts,obesity,organic,potatoes,processed foods,recipe,smoothie,spinach,stay healthy,the mediterranean diet,type 2 diabetes,vegetables,walnuts,whole grains,yogurt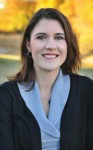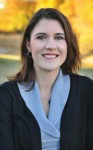 Jami Cooley is a Certified Nutrition and Wellness Consultant as well as a Registered Nurse, but her interest in integrative medicine grew out of her experience in conventional medicine. Cooley … 
View all posts by Jami Cooley, RN, CNWC
Enter Your Login Credentials