Keto Vegetarian Shopping List – Low Carb Veggie Shopping Food List
For original article click here
Keto Vegetarian Shopping List – low carb & Ketogenic diet friendly food list to help put together a Keto Vegetarian Plan complete with ideas for meals.
It is possible to simultaneously follow a Vegetarian Diet and a Ketogenic Diet. You just need to be a little creative to keep meals varied and also be sure that you're meeting your macros and maintaining adequate health.
In this post you'll find a list of keto foods to include on your shopping list that are vegetarian friendly too.
Vegetables & Fruit
Here's a list of low carb vegetables to enjoy in meals.
Spinach, Kale & Leafy Greens
Mushrooms
Asparagus
Avocado
Herbs such as Mint, Oregano, Sage, Coriander, Cilantro
Green Beans
Broccoli
Cauliflower
Cucumber
Brussels Sprouts
Artichokes
Radishes
Olives
Lettuce
Cabbage
Celery
Zucchini
The following is a list of even more vegetables and fruit to enjoy, however be aware that the carb content is higher than those vegetables listed above. So, be mindful of that and enjoy more sparingly.
Pumpkin
Tomatoes
Peppers/Capsicum
Onion
Garlic
Strawberries
Raspberries
Blackberries
Blueberries
Lemon
Lime
Nuts & Seeds
Excellent sources of a wide range of nutrients, include fats, proteins and fiber, nuts and seeds will form an important part of a Vegetarian Keto Diet.
Be aware though that carbs can add up very quickly with nuts and seeds, so measure and count out your nuts carefully to avoid blowing all your daily macros on nuts and seeds.
Here's a list to include on your Keto Vegetarian Shopping List, you enjoy enjoy the nuts as whole, in a nut butter or ground into a flour.
Almonds
Walnuts
Pecan Nuts
Pistachios
Brazil Nuts
Cashew Nuts
Pine Nuts
Peanuts
Macadamias
Pumpkin Seeds
Sunflower Seeds
Flax Seeds
Chia Seeds
Protein
Getting enough protein if especially important with a Keto Vegetarian diet. So, here low carb friendly, meat free protein sources.
Nuts and Seeds (see above)
Protein Powder (I like this one)
Dairy
Eggs
Tofu
Tempeh
Healthy Fats
Fats tend to make up 70 to 80% of a Ketogenic Diet, so you will find yourself enjoying tons of healthy fats.
Avocado – whole and avocado oil
Olive Oil
MCT Oil
Coconut Oil/Milk/Cream
Eggs
Dairy – Cream, Cheese, Yoghurt, Butter, Ricotta
Chocolate
Yes, chocolate deserves a category on it's own. If it weren't for Keto Hot Chocolates, I don't know how I would survive the Keto Diet! Choose as dark as possible (like this one) and then sweeten with Stevia or your sweetener of choice.
Pantry Staples
To help prepare meals, here are some staples to keep on hand in your pantry.
Coconut Flour
Coconut Milk
Almond Milk
Vinegars – including apple cider vinegar
Herbs & Spices
Salt & Pepper
Chocolate (see above!)
Cacao Powder
Almond Flour
Stevia or your sweetener of choice
Vanilla and other flavourings
Psyllium Husks
Protein Powder – to help you meet your protein macros. (I like this one.)
Soy Sauce/Tamari
Tomato – sauce, tinned and paste
Coffee
Tea
Mustard
Pickles
Sauerkraut
Make sure you subscribe to my blog to get the weekly newsletter as there's loads more Easy Keto Recipes to come in the future – you can be sure of that! Click here to subscribe.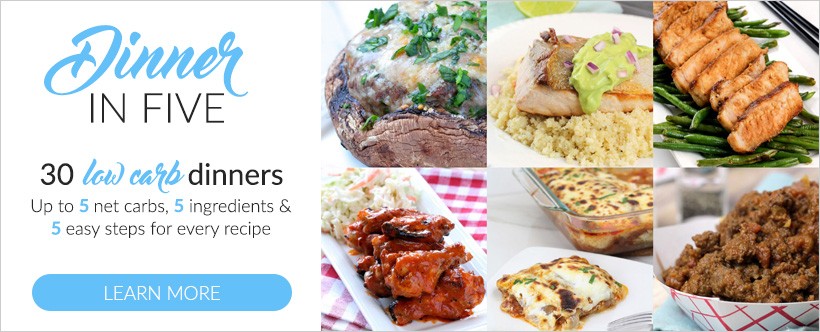 More Keto Diet Recipes:
Cheesy Cauliflower Rice Recipe
Disclosure – this post contains affiliate links.
Post Views: 36,571