Keto Blueberry Lemon Bread Recipe with Almond Flour
For original article click here
What to Eat With Keto Bread?
Low-Carb Blueberry Lemon Bread is delicious toasted and topped with butter or ghee, then smothered in my Low-Carb Plum Jam.
Keto Dessert with Stevia
I haven't experimented with using other sweeteners in place of stevia in this bread recipe so not sure how that would work, but if you do experiment please let me know how it goes. If you're looking for more keto desserts with stevia check out my Mint Chocolate Chip Fat Bombs.
To find out why I use stevia in my recipes rather than other keto sweeteners, check out What's the Best Sweetener for the Keto Diet.
Egg White Protein Powder Recipes
For best results follow the Keto Blueberry Lemon Bread recipe and use all of the ingredients. I'm often asked if the egg white protein powder is necessary and in fact it is. If you're hesitant to buy it for this recipe only, do not fear, I have plenty of other recipes with Egg White Protein Powder for you.
Nut-Free Keto Bread
If you'd like a keto bread recipe without egg white protein powder, check out my Nut-Free Keto Bread, it's amazing.
How to Store Keto Bread
To store Keto Blueberry Lemon Bread, let cool overnight, wrap in a paper towel, place it in a ziploc bag, and refrigerate for up to 1 week. I haven't tried freezing this bread so not sure how long it would keep in the freezer.
More Keto Bread with Almond Flour Recipes
Here are some of my other keto bread recipes for you, none of which use egg white protein powder.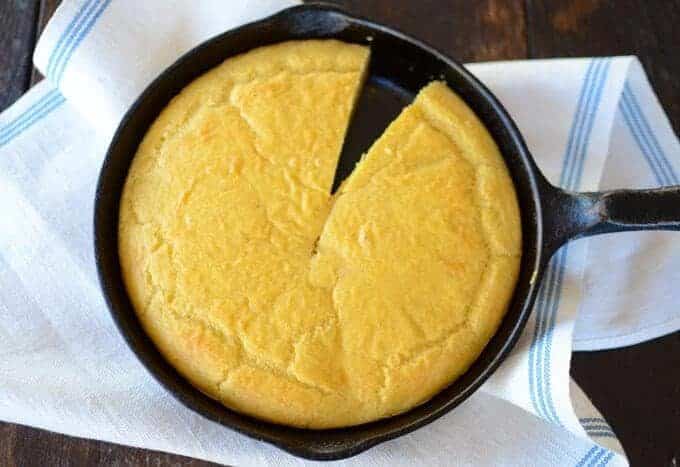 Low-Carb Cornbread
My Low-Carb Cornbread is perfect for Thanksgiving but is so good we enjoy it year-round. The boys love melting butter and honey together and drizzling it over the warm cornbread.
Keto Bagels
I've loved bagels ever since I was a little girl, so I had to create a gluten-free bagel recipe my boys could enjoy too. My husband says this Keto Bagels recipe is the perfect vehicle for cream cheese and lox, but we also use it for egg sandwiches.
Oh almond flour bagels how I love thee! Thinking about them makes me want to throw a batch in the oven right now!
Pizza Muffins Recipe
Who doesn't love pizza? My recipe for keto Pizza Muffins made with almond flour may be one of my favorite savory creations to date. These are super fun to make with your kids as everyone can put their own toppings on, it's like your own personal pan pizza, but better!
Keto Bread Recipes with Almond Flour
My Keto Bread Recipes with Almond Flour are my most popular and requested recipes because they're so healthy, easy to make, and totally delicious.
Your Low-Carb Bread Recipe Requests
Did I miss anything?! What type of low-carb keto bread recipe are you looking for? Leave a comment and let me know.
This post is an oldie but goodie from the archives, I first published this Keto Blueberry Lemon Bread recipe in 2017.
Buy My Books!