Keto.app – Keto Diet Tracker
For original article click here
Probably the best app for tracking net carbs and other macros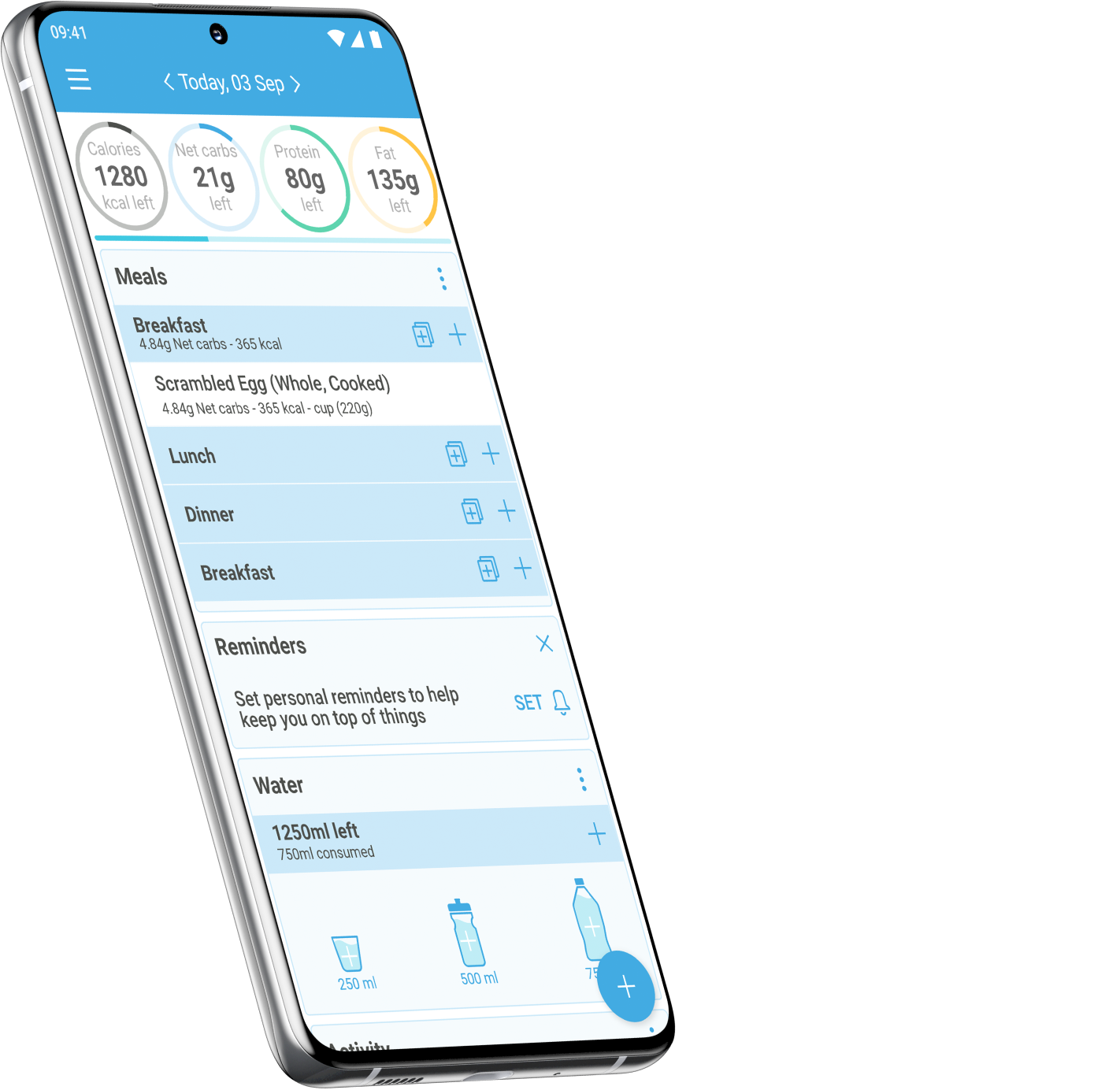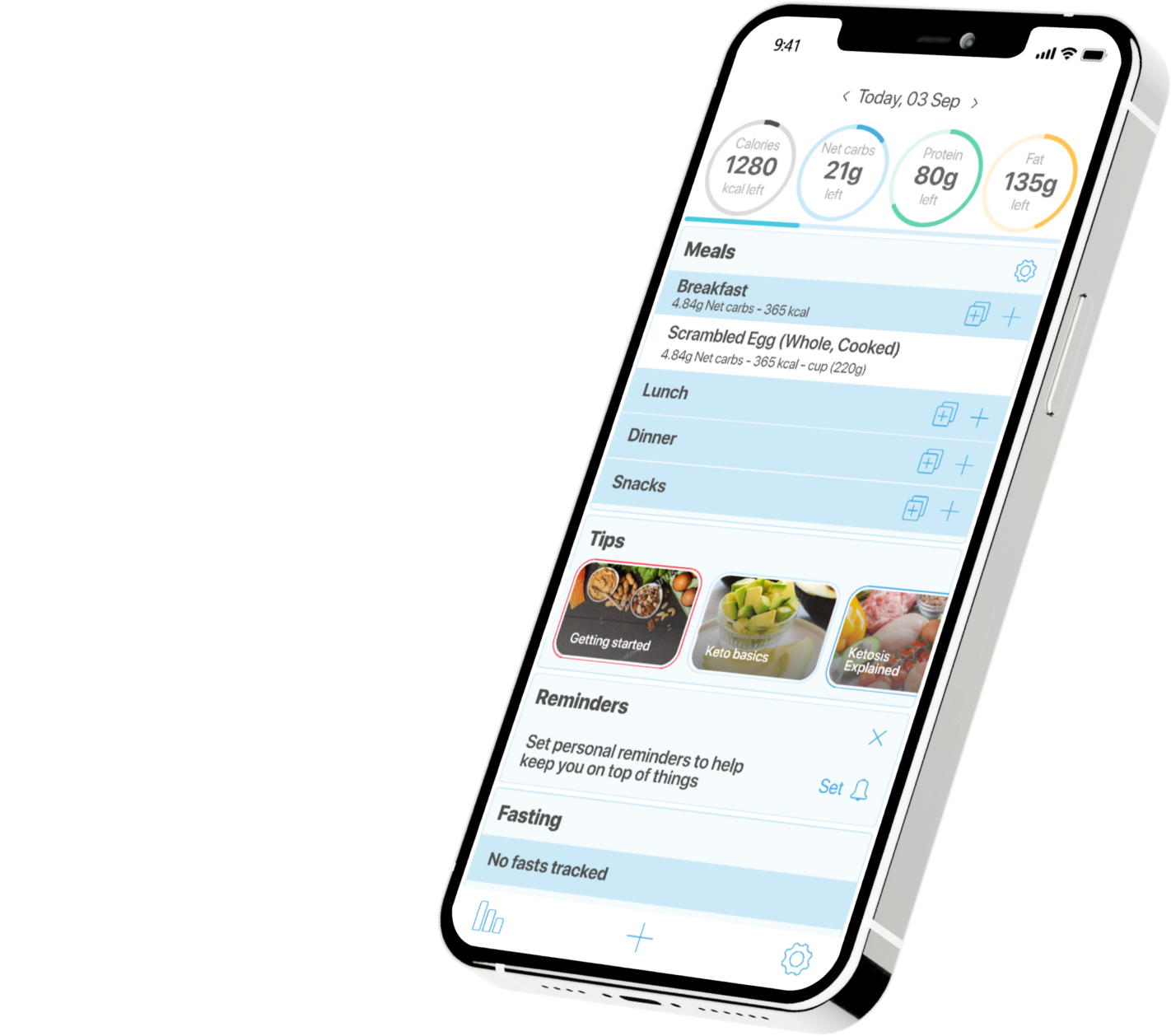 Trackers
Food
Search for foods in our enormous database and track your macronutrients. Our app counts Net carbs by default for Keto diet. Scan barcodes or create your custom foods and meals with ease.
Weight
Input your daily weight and track changes. Also update your body fat percentage once in a while. Your goals will be recalculated according to the changes
Water
Set a goal and track water intake with a single tap. You can input data in ml, fluid oz or cups. Consuming enough water is essential for any diet.
Activities
Track your burned calories and adjust your daily calories goals according to this. Also, you can see your steps count and import activities data from Fitbit app.
App Features
Smart
Sort consumed foods by any macronutrient simply by tapping on the corresponding circle.
Customize
Create your own Meals and Recipes
Integrations
Import your activities from Fitbit.
Synchronize with Apple's Health app, including export of your nutrition data, water, activities, and weight
Huge databases
Product databases for USA, Australia, Canada, India, Ireland, New Zealand, Singapore, South Africa and the United Kingdom.
Pure & Simple
Everything you need for Keto on one screen. No useless stuff.
More Features
Track meals altogether or separate by Breakfast, Lunch, Dinner, and Snacks.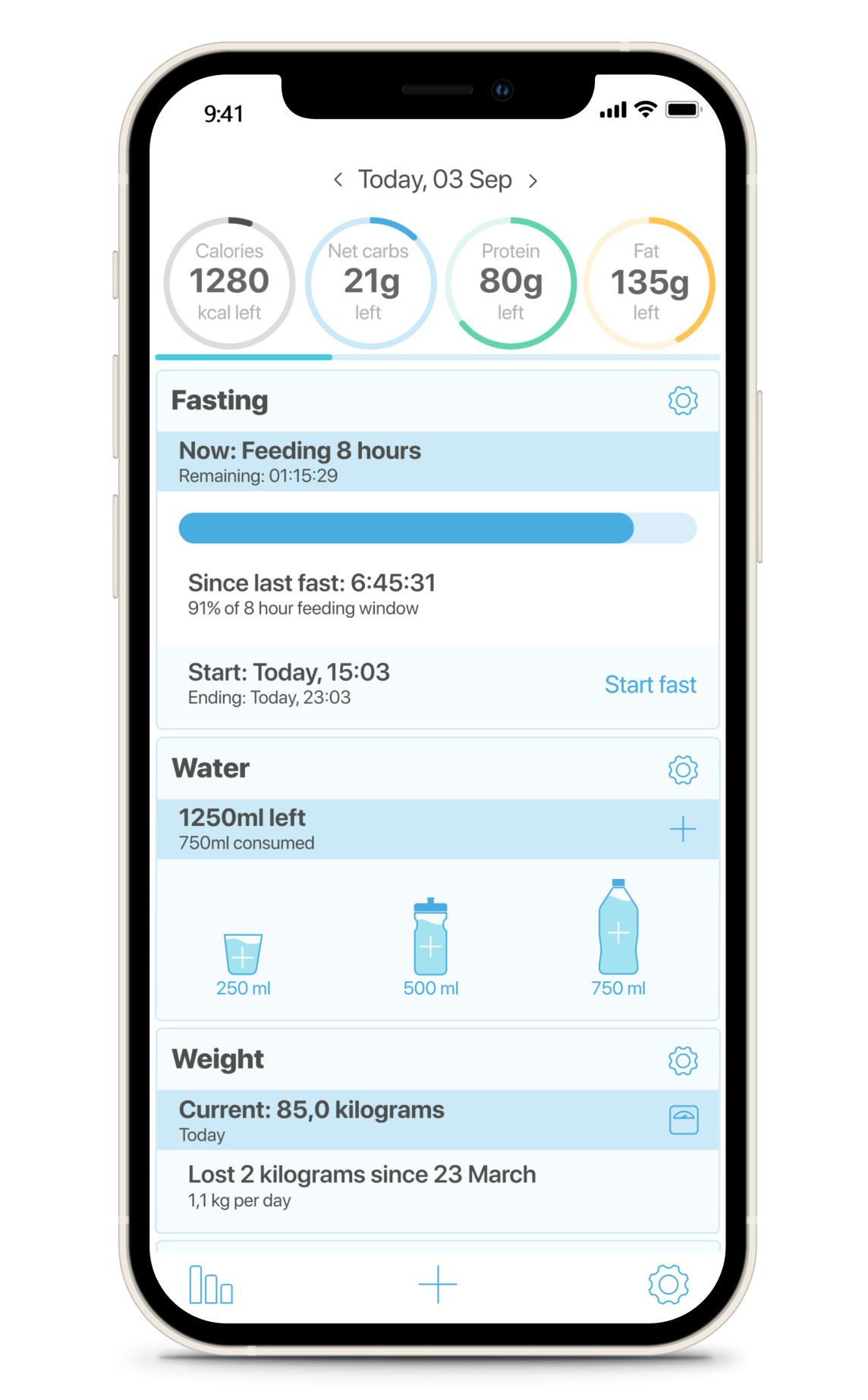 Download App
Download Keto Diet Tracker today to achieve your health and fitness goals!

Subscription
Purchase a PRO Subscription to get the most out of your nutrition tracker, while saving money. PRO Subscriptions are available for three different time periods:
1 month
3 months
$599
$1.99/month
1 year
$1199
$0.99/month
A PRO membership is also available for a one-time payment of USD $24.99, which includes all PRO features and lifetime access.
What our Clients say
"I've been extremely impressed with how much weight I have lost because I have used this app. It's almost 20 pounds in total! Certainly impossible without the help of this app."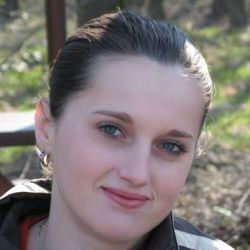 Lea
"This app helped me to lose 50+ pounds! Would recommend to anyone on Keto who wants accurate macros for weight loss."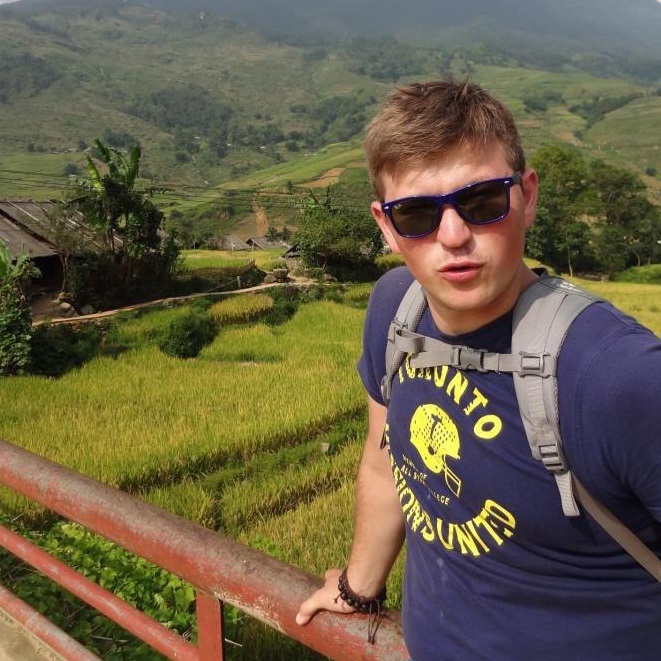 kshandy
"Makes keto way of eating a breeze. New do doing the keto way of life and it has helped me stay on track. Do yourself a favor download and then pay for the app!! Worth it!!!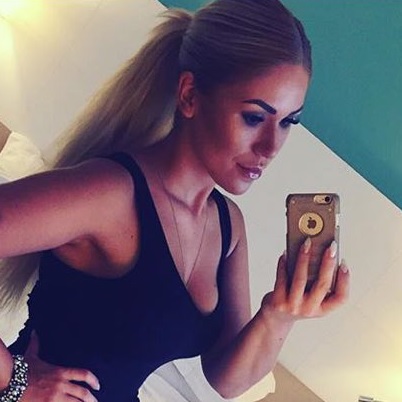 Lena
"Excellent app! Any food you can imagine is there including the restaurants. All my questions were answered!"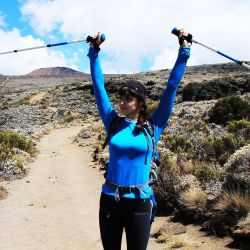 Emma
"Useful and effective. I have used several ways to help me on my low carb journey. I really love this app give great information to help you be successful. Capable of keeping a detailed food dairy including barcode reader and custom recipe creator, calculates custom macros and net carbs. The keto diet tracker is becoming a trend among people looking for weight loss."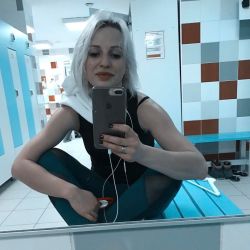 Alice
"I've tried them all and this one is lightyears beyond the rest! I love that they continuously improve the app and listen to what users want! When I first downloaded it, it was good but missing a lot of features that would make it great. They've quickly released upgrade after upgrade! Also, it tracks net carbs so less work for you to do! Great customer service as well"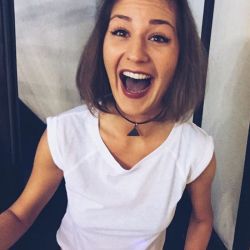 Kate Kirston
"I am very happy with the progress I have made with this app. I now feel much healthier, and I am definitely eating more healthy foods!"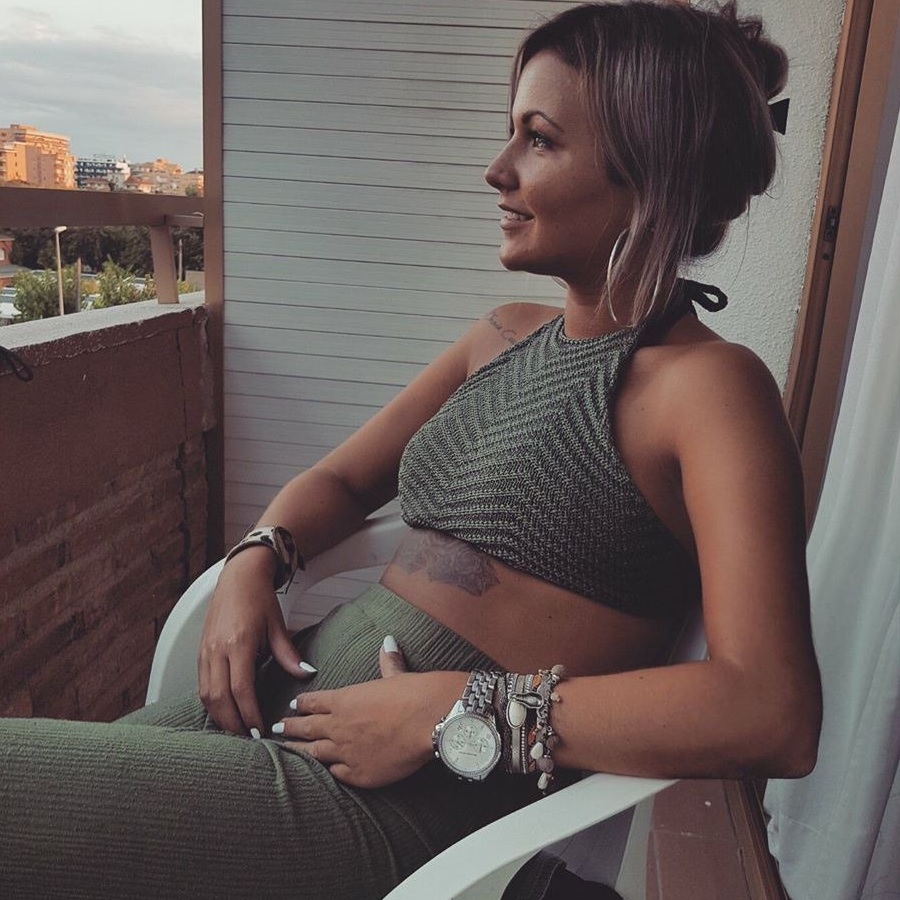 Larisa Ro
"This is my first time doing the Keto Diet and this has helped me so much!"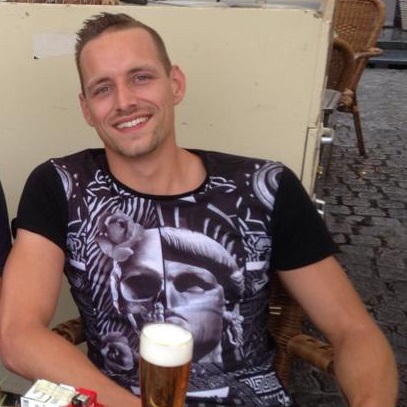 Robbert
Screenshots
Clean and simple user interface
Hard Facts
Keto diet tracker app in numbers
Downloads
Over 1,000,000 downloads in AppStore!
Ratings
Over 9,500 ratings in AppStore with 4.6 average
Searches
200,000 food searches daily
Foods
Database has more than 900,000 foods and keeps growing
Get In Touch
You can send us your feedback and suggestions