How to Start a Mediterranean Diet, According to Nutritionists
For original article click here
We may earn commission from links on this page, but we only recommend products we back. Why trust us?
Here's exactly how to start this plant-based, heart-healthy plan.
By Janis Jibrin, M.S., R.D. & Tracy Olgeaty Gensler, M.S., R.D. and Jaclyn London, MS, RD, CDN, Good Housekeeping Institute
Feb 18, 2020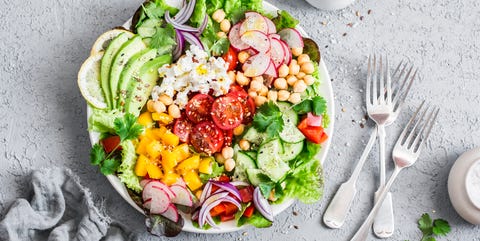 Getty Images
Nutritionists name the Mediterranean diet a top eating plan time and time again. Why? Unlike other fad diets, the Mediterranean diet doesn't require you to completely cut out any of your favorites (yes, red wine included!). It's more of a lifestyle change than a short-term diet, as it encourages people to eat meals that are very similar to those you'd find overseas, including cultural staples in Greece, Spain, Italy, France, and some African nations. The diet is rich in produce, whole grains, and lean protein, supplying tons of antioxidants and heart-healthy unsaturated fats (think: olive oil rather than butter, yogurt in place of milk). You'll find that those following the Mediterranean diet enjoy plenty of fatty fish (especially salmon, which is considered a tentpole staple) alongside whole grain sides like farro, plenty of rich, crisp vegetables, and a dash of supercharged legumes, nuts, and seeds.
Alongside nutritionists, health experts are increasingly becoming aware of the life-changing benefits of adapting to the Mediterranean diet in the long term. The Mediterranean lifestyle quickly rose to fame among doctors back in 2013 after a team at the University of Barcelona studied more than 7,000 participants that drastically improved their heart health after adopting the diet. The scientific evidence of the diet's effectiveness has piled up since then; most recently, a study published in the BMJ journal Gut found that elderly individuals may vastly improve brain function and their own longevity by adopting the Mediterranean diet. The research suggests that this dietary routine can fight inflammation as we age, stopping the production of chemicals in the body that are known to contribute to cognitive decline. Plus, the diet may also prevent chronic diseases such as diabetes.
If you're already sold on giving the Mediterranean diet a try but don't know where to start, this collection of heart-healthy recipes is for you. Here's how to start the Mediterranean diet, with R.D.-approved ideas for breakfast, lunch, and dinner.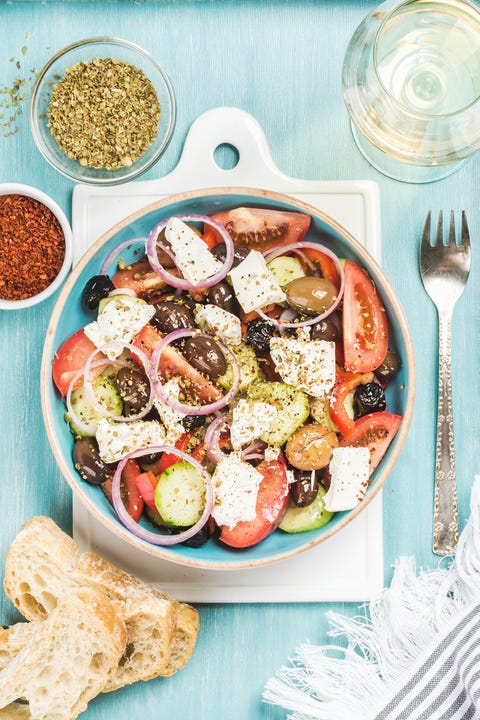 Foxys_forest_manufactureGetty Images
1 of 30
About the Mediterranean Diet
What makes the Mediterranean diet so great is that it's a lifestyle, not a traditional weight-loss plan that has you counting calories or measuring portions (snooze). You'll fill up on tons of veggies, fruit, 100% whole grains, and beans; choose lean protein like seafood and eggs; and enjoy sweets and alcohol as indulgences. The benefit of eating this way is that it emphasizes real, whole foods and limits ultra-processed ones, which tend to be higher in sodium, saturated fat, and added sugar. Since the Mediterranean eating style prioritizes the fun and enjoyment of your whole dining experience, flavorful ingredients are at the forefront — so you'll never feel deprived.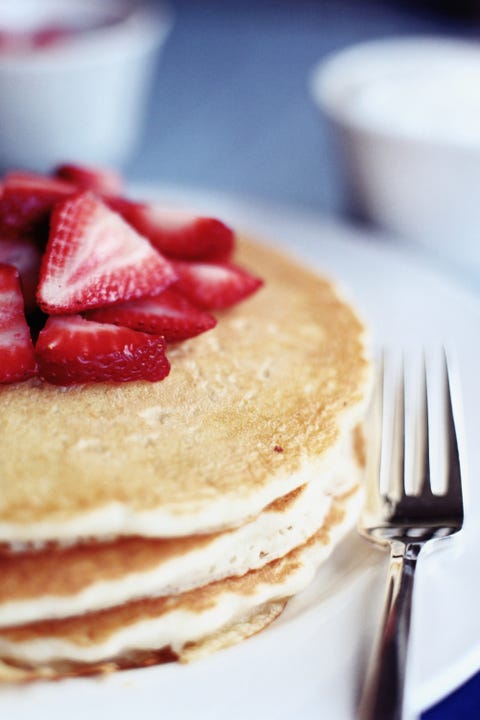 Angela WyantGetty Images
2 of 30
Monday: Breakfast
In a bowl, combine 1 1/2 cups low-fat Greek yogurt, 1 large egg, 1 cup whole-wheat or buckwheat pancake mix and 3/4 cup fat-free milk. This recipe makes five servings (each serving is four small pancakes). Have one serving now, and pack away four individual servings in the freezer for upcoming meals. Serve with 2 tablespoons light maple syrup, 1 cup fat-free milk, and 1 cup fresh strawberries.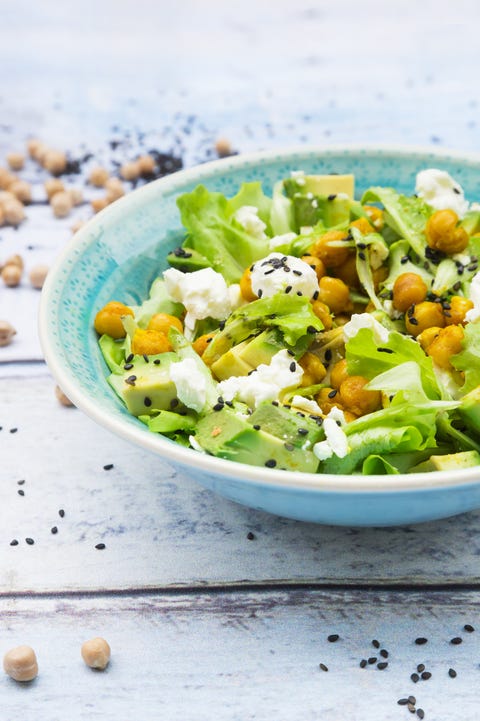 Getty Images
3 of 30
Monday: Lunch
In a bowl, combine 7 1/2 ounces (half a 15-ounce can) canned chickpeas (rinse in a colander for two minutes to remove excess sodium and drain well; save other half for Tuesday's snack), 2 teaspoons olive oil, 1/4 cup chopped white onion, 1/4 cup chopped green pepper (save the rest of the onion and pepper for dinner), 1 tablespoon sliced black olives, 1/4 teaspoon ground black pepper, and 1 1/2 tablespoons white vinegar. Mix thoroughly. Serve mixture over 2 cups romaine lettuce leaves.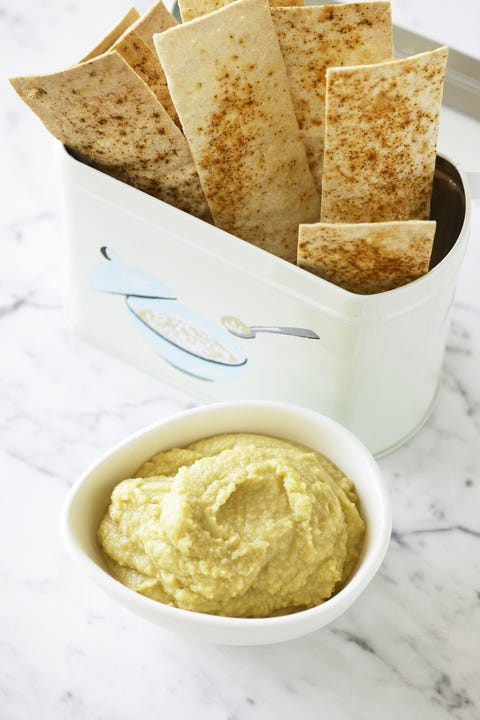 Steve Brown PhotographyGetty Images
4 of 30
Monday: Snack
Spread one slice of 100% whole-grain bread or 2 whole-grain flatbread crackers with 2 tablespoons hummus, drizzle with 1 teaspoon of olive oil, and add salt, pepper, or other seasonings to taste.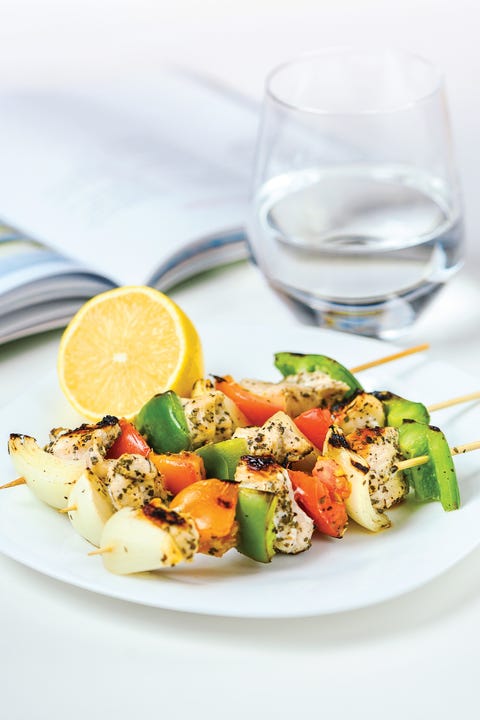 Getty Images
5 of 30
Monday: Dinner
Slice remainder of white onion and green pepper from lunch into chunks; set out 10 grape tomatoes. Alternate pieces of onion, pepper, and cherry tomatoes on skewers and grill. Serve with 5 ounces of grilled salmon and one 6-inch whole-wheat pita pocket. Spread pita with 2 tablespoons hummus. Finish with 1 cup fat-free milk.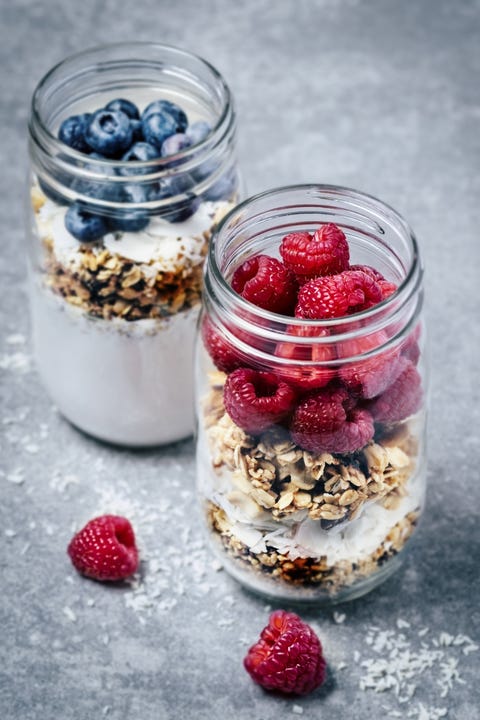 Getty Images
6 of 30
Tuesday: Breakfast
In a clear, wide-mouth glass, layer 1/2 cup 2% Greek yogurt with 1 cup raspberries and 1/3 cup lower sugar granola, like KIND Peanut Butter Clusters.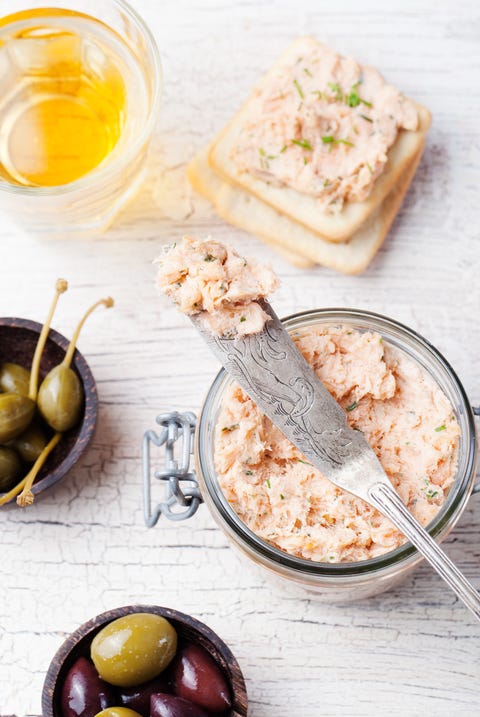 AnnaPustynnikovaGetty Images
7 of 30
Tuesday: Lunch
Eat one Freshé pack (the canned tuna salad comes in flavorful varieties like Provence Nicoise and Sicilian Caponata) with a piece of fruit.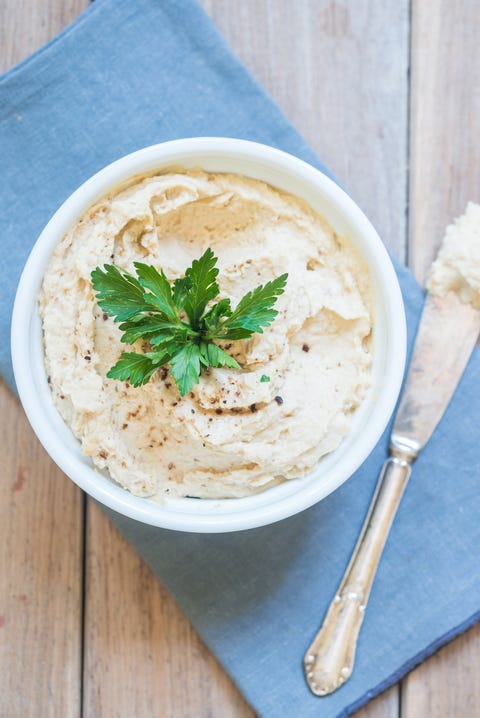 SohadisznoGetty Images
8 of 30
Tuesday: Snack
Make this hummus in advance and have half the recipe today, and save the rest for Wednesday's snack (or top it with an egg for breakfast fun!). Use remaining chickpeas from Monday's lunch (half a 15-ounce can). Mash the chickpeas lightly in a bowl with a fork. Mix in 2 teaspoons olive oil, 1 clove minced garlic, 1 tablespoon lemon juice, and 1/4 teaspoon salt. If desired, add 1/4 teaspoon ground cumin. Mash all ingredients together thoroughly or, if a smoother spread is desired, use a food processor to blend the ingredients. Bring along 1 cup broccoli florets and 1 sliced pepper for dipping.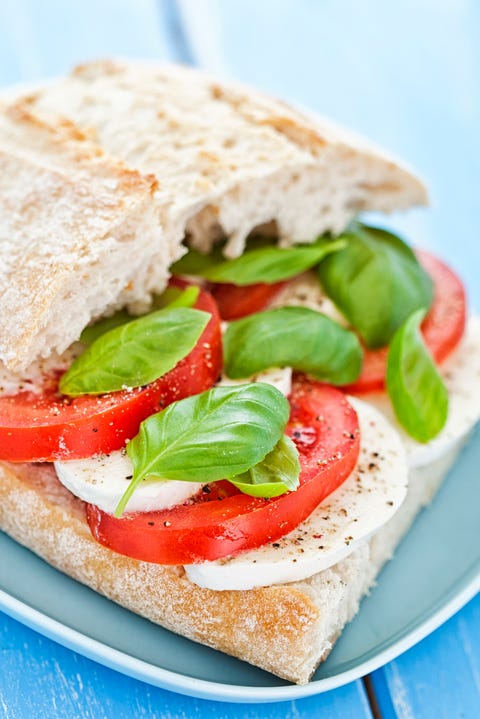 GMVozdGetty Images
9 of 30
Tuesday: Dinner
Slice a 6-inch French baguette roll in half lengthwise. Sprinkle the halves with 1/4 cup shredded mozzarella cheese and bake in toaster oven at 250 degrees for four to six minutes, until cheese is just beginning to melt. Meanwhile, slice two large red tomatoes. Remove baguette from toaster oven, sprinkle with a little dried basil and dried oregano if desired. Top with tomato slices. For dessert, enjoy 1 ounce of dark chocolate.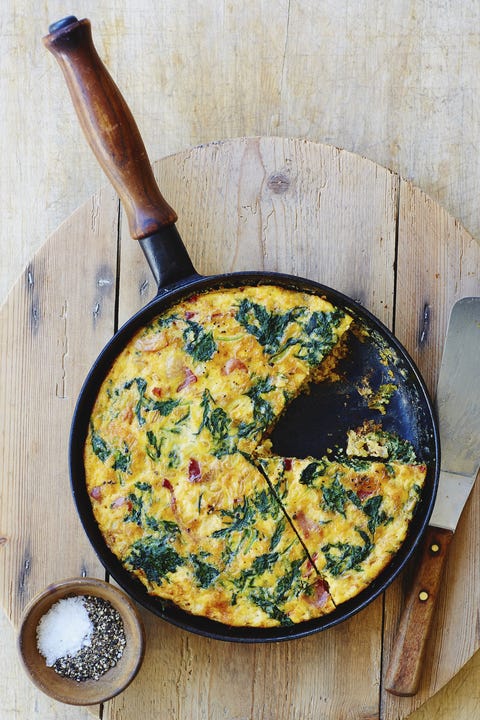 Dorling Kindersley: Charlotte TolhurstGetty Images
10 of 30
Wednesday: Breakfast
Today, make half of this Chive and Goat Cheese Frittata recipe. Serve half of the frittata now, and refrigerate the rest for Thursday dinner. Enjoy with an 8-ounce latte with skim or unsweetened soy milk.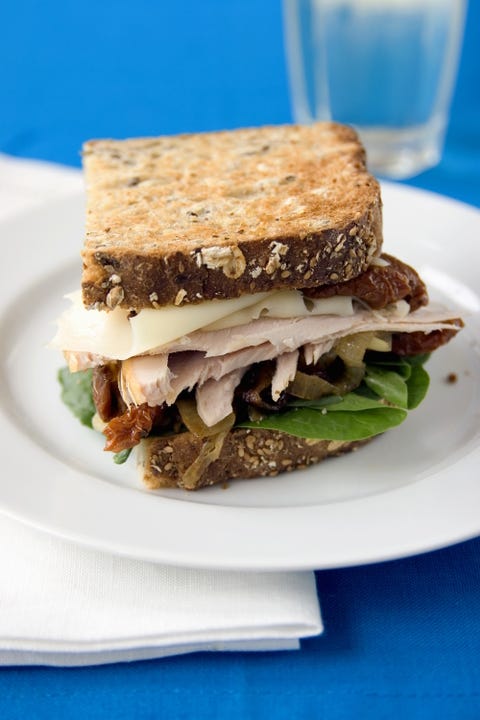 Jennifer LevyGetty Images
11 of 30
Wednesday: Lunch
Spread two slices of whole-wheat bread with 1/2 avocado and stuff with 3 ounces sliced turkey breast, 5 artichoke hearts, and as much sliced red pepper as you want. Serve with a cup each of baby carrots and grapes.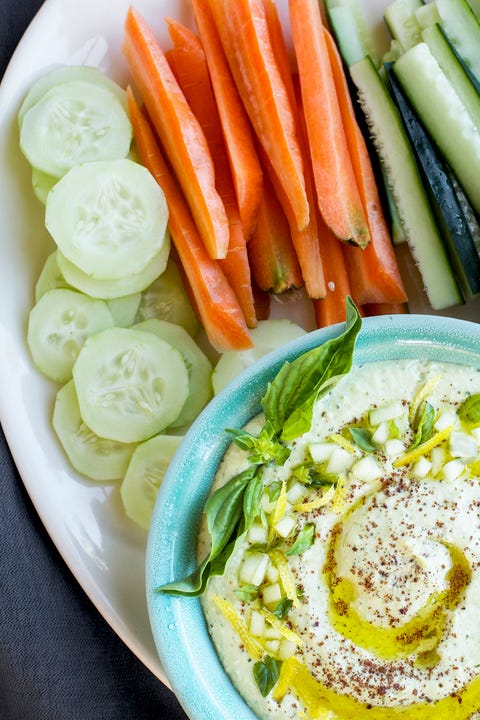 The Picture PantryGetty Images
12 of 30
Wednesday: Snack
Use remaining chickpea spread from Tuesday's snack. Bring along sliced crudité plus a 1-ounce piece of cheese.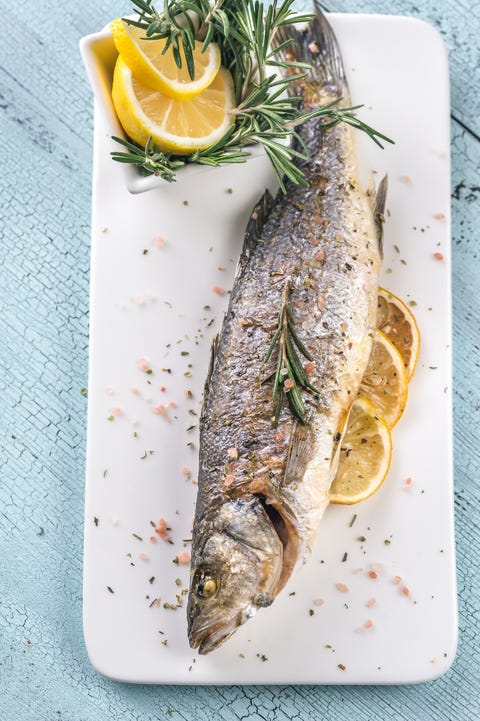 AlexPro9500Getty Images
13 of 30
Wednesday: Dinner
Today, make half of this Mediterranean Grilled Sea Bass recipe and reserve half of that for Thursday lunch. Increase your vegetable intake by serving half a bag of baby arugula leaves with this meal (save the other half for Thursday). Add one ear of corn and 1 cup cooked sugar snap peas topped with 2 teaspoons butter on the side. For dessert, have one frozen fruit popsicle (about 80 calories or less).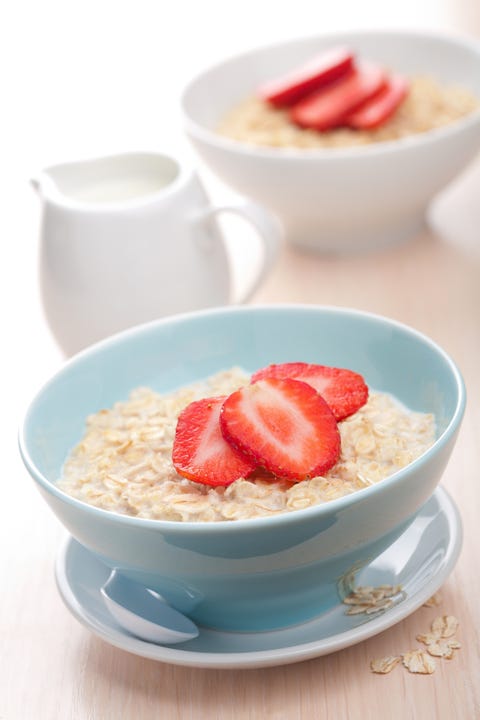 OlgaMiltsovaGetty Images
14 of 30
Thursday: Breakfast
Make 1 cup of oatmeal (like Bob's Red Mill or Earnest Eats) and add ½ cup milk and hot water as desired.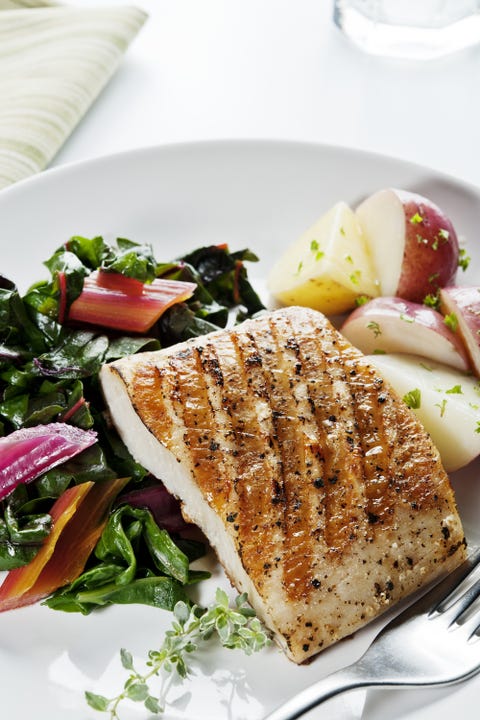 Getty Images
15 of 30
Thursday: Lunch
Serve remaining sea bass from Wednesday's dinner over rest of the baby arugula leaves.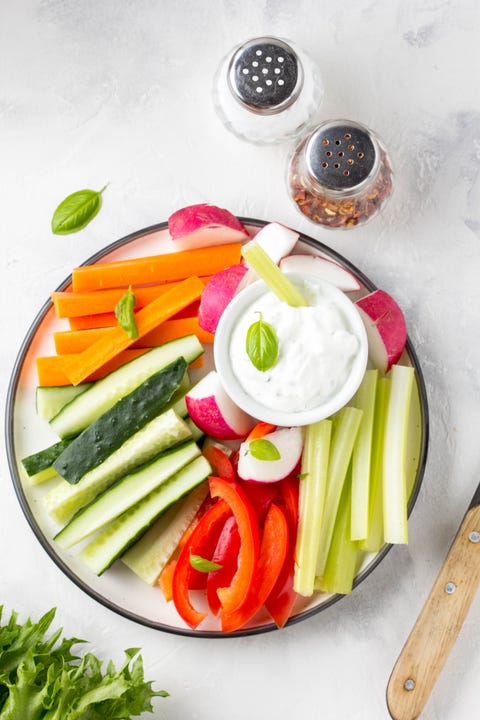 Maria_LapinaGetty Images
16 of 30
Thursday: Snack
Mix 1/2 cup 0% plain, unsweetened Greek yogurt with 1 tablespoon light maple syrup and 1/4 teaspoon vanilla extract. Dip fresh crudité in this sweet, creamy dip.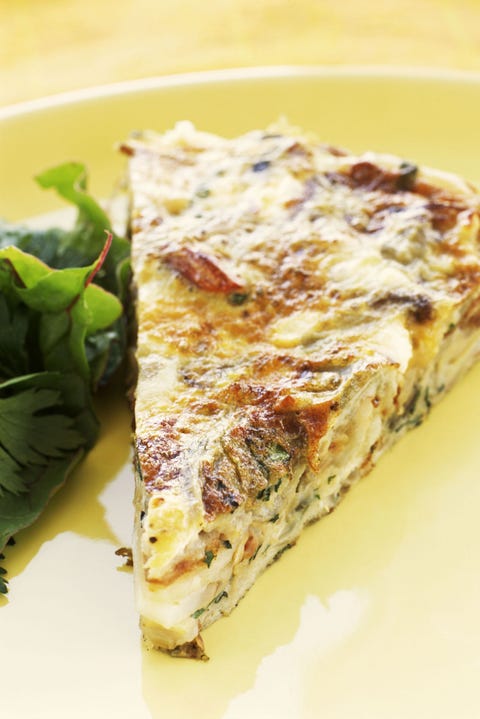 Evan SklarGetty Images
17 of 30
Thursday: Dinner
Have the rest of the frittata from Wednesday's breakfast. Serve with 2 cups baby spinach leaves, topped with 2 tablespoons balsamic vinegar, and 1 cup fat-free milk. Have one slice of whole-wheat toast topped with 2 teaspoons butter. For dessert, have a single-serve ice cream, like a Magnum Mini Bar.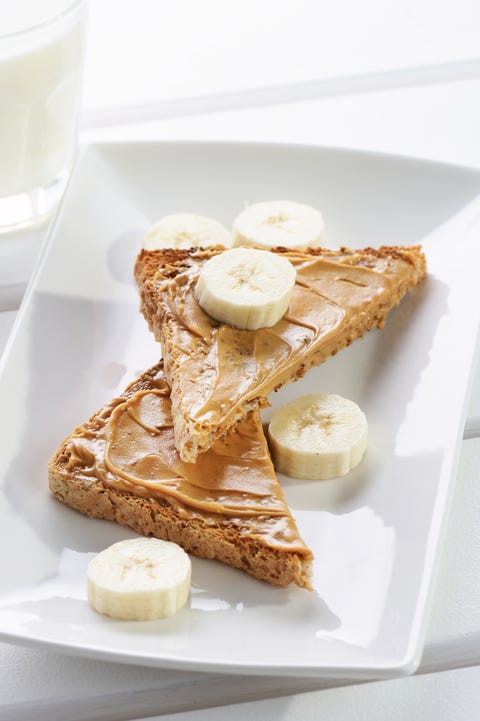 ManuWeGetty Images
18 of 30
Friday: Breakfast
Top 2 slices of 100% whole-grain bread with 2 tablespoons of nut butter and 1/2 sliced banana.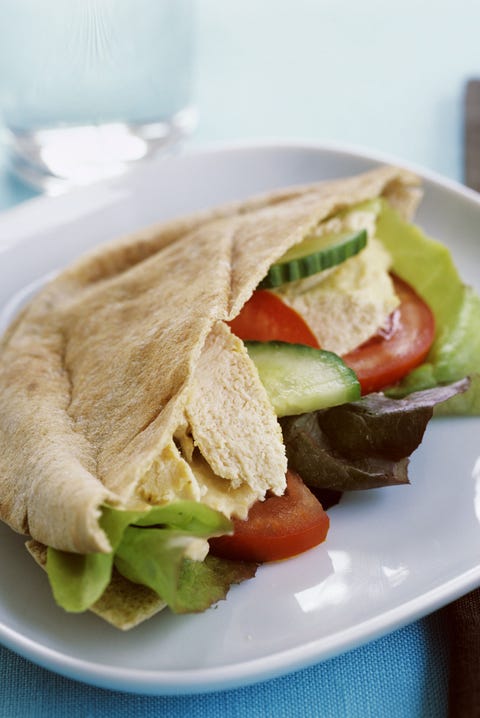 Rita MaasGetty Images
19 of 30
Friday: Lunch
Mix together 1/2 cup 2% Greek yogurt with 1/2 finely chopped cucumber, 1/2 minced garlic clove, and a shake of salt and pepper if desired. Spread half of yogurt sauce (save remaining sauce for later use) on a 100% whole-grain sandwich thin (like Arnold's) or pita and eat with a cup or more of veggies.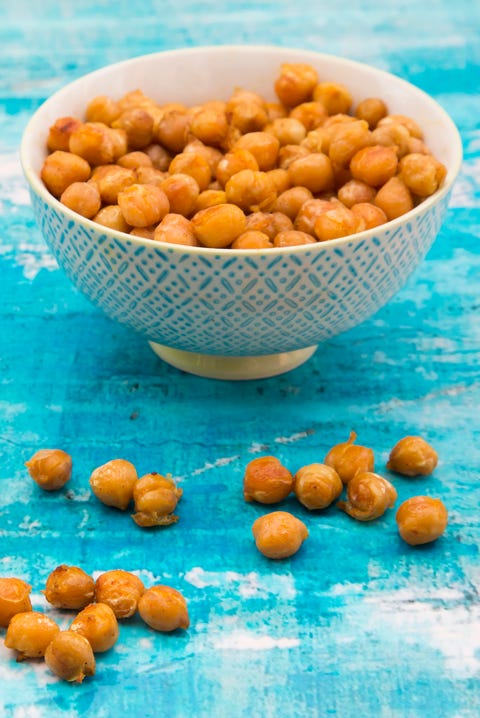 Westend61Getty Images
20 of 30
Friday: Snack
Munch on a 1.5-ounce bag of roasted chickpeas, like Biena Honey-Roasted Chickpea Snacks.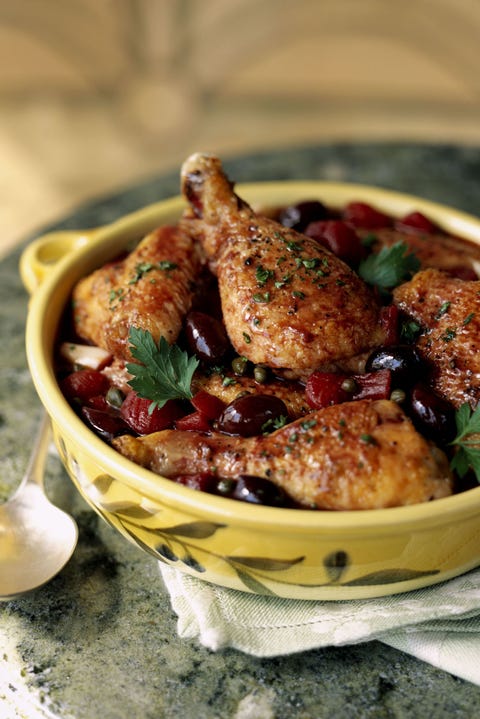 Penina MeiselsGetty Images
21 of 30
Friday: Dinner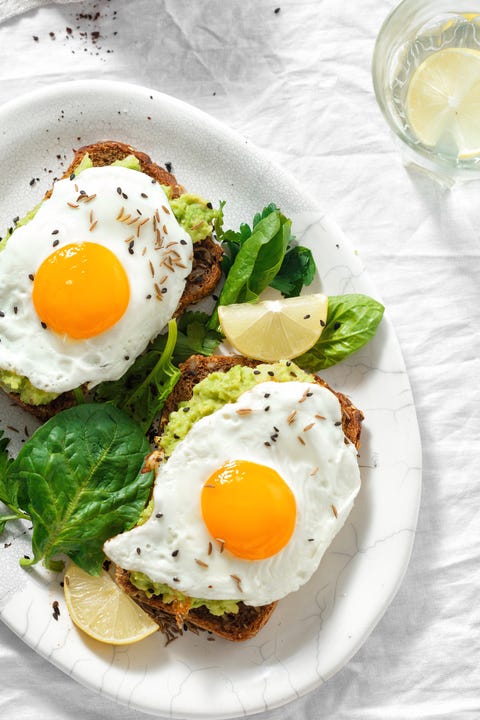 KucherAVGetty Images
22 of 30
Saturday: Breakfast
Whip up 2 eggs any style with 1/3 sliced avocado and 1 piece 100% whole-grain bread.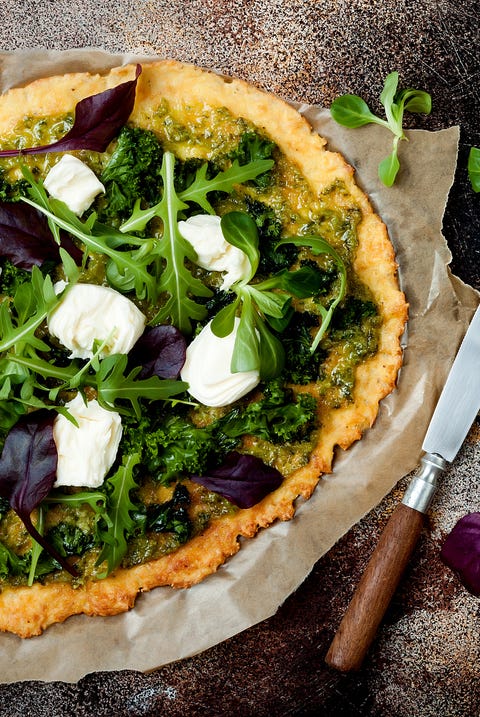 sveta_zarzamoraGetty Images
23 of 30
Saturday: Lunch
Top one half of a GH Nutritionist-approved Green Giant Cauliflower Pizza Crust with tons of veggies (leftovers or whatever you feel like) and 1/2 cup mix of part-skim shredded cheese. Eat with a green salad (at least 2 cups) topped with 2 tablespoons regular dressing, any variety. For dessert, have one scoop of your favorite ice cream in a plain cone.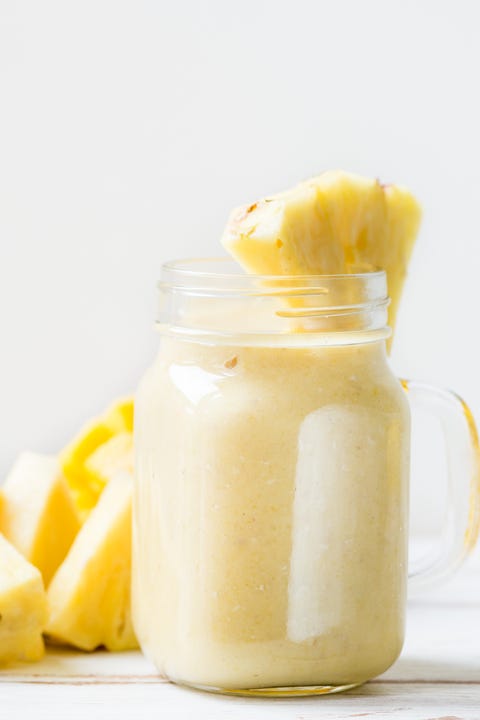 ManutaGetty Images
24 of 30
Saturday: Snack
Combine 1/2 fresh orange and 1/2 cup pineapple chunks (fresh or canned and drained) with 6 ounces Greek yogurt for a fruity smoothie. Blend in a food processor or blender, dropping in ice cubes as desired.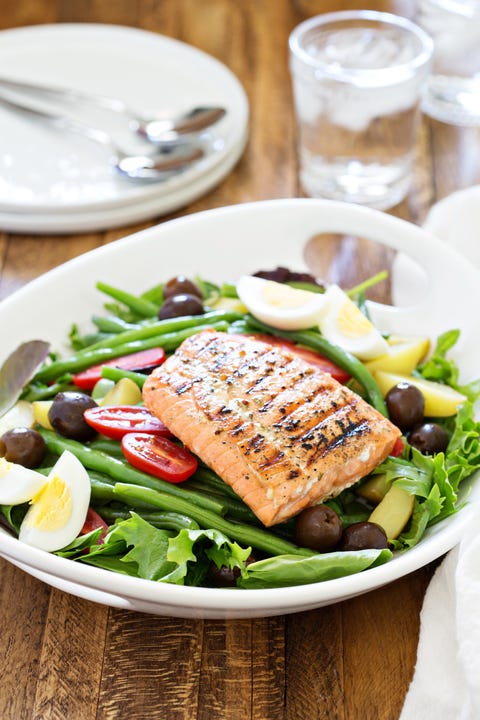 VeselovaElenaGetty Images
25 of 30
Saturday: Dinner
At your favorite Greek restaurant, order sautéed or grilled shrimp or salmon with an extra order of veggies. Split an app with your table and skip the bread basket. Enjoy with a glass of wine or spirit on the rocks.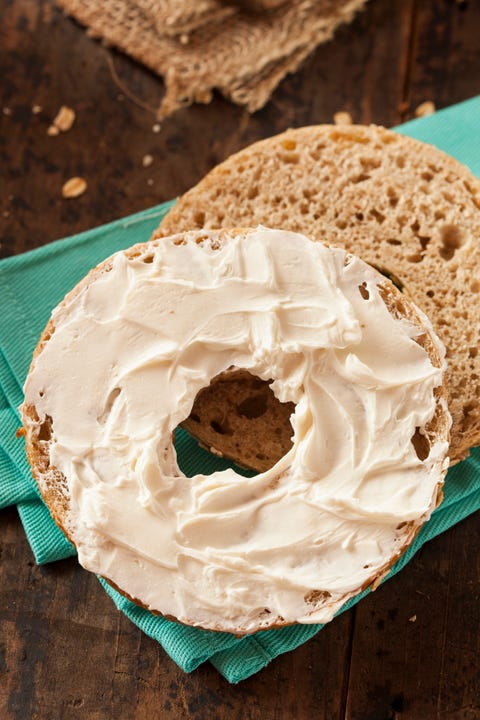 bhofack2Getty Images
26 of 30
Sunday: Breakfast
Top a 100% whole-grain bagel thin with 1/3 cup fat-free ricotta cheese mixed with 1 tablespoon each peanut butter and honey. Sprinkle 1 tablespoon raisins on top.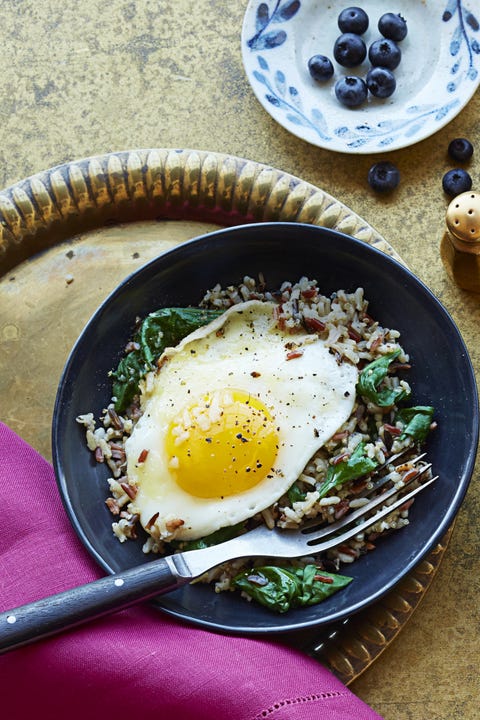 Con Poulos
27 of 30
Sunday: Lunch
Make this wild rice and egg bowl. Grab a skillet and cook one egg, then add 2 cups spinach and season with salt and pepper. Serve on top of Minute Rice Multi-Grain Medley.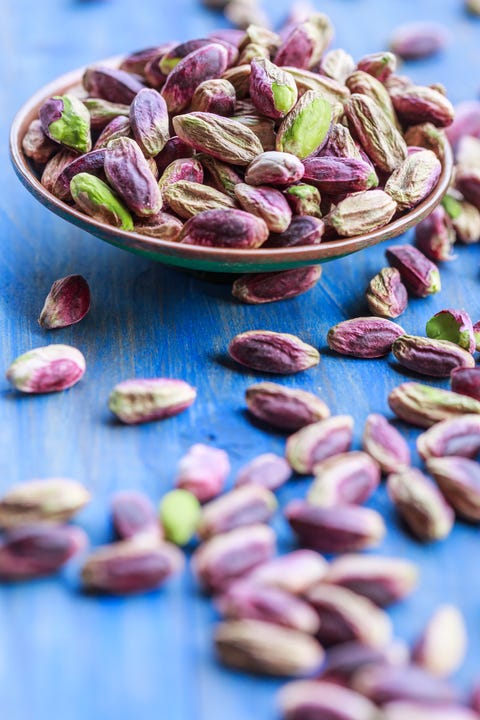 QuanthemGetty Images
28 of 30
Sunday: Snack
Nosh on 1 ounce nuts, like GH Nutritionist-approved favorites Hampton Farms peanuts or Wonderful Pistachios.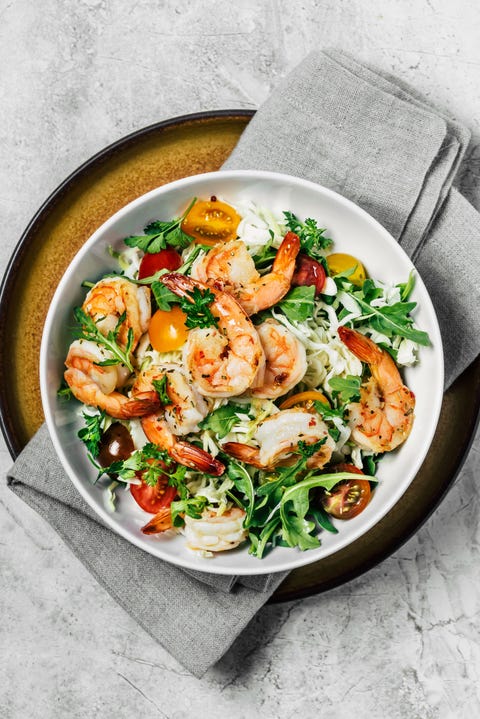 Getty Images
29 of 30
Sunday: Dinner
Marinate 6 ounces of shrimp in a basil marinade for at least 30 minutes or overnight. To make basil marinade: Whisk together 1/4 cup white wine vinegar, 1 teaspoon olive oil, 1 tablespoon lemon juice, and 1/8 cup chopped fresh basil or 1 teaspoon dried basil. Grill shrimp until cooked through. Top 2 cups of romaine lettuce with the shrimp and mix well into greens for added flavor. Serve with 1 cup blueberries and enjoy 1 ounce chocolate (about 4 Dove Miniatures) for dessert.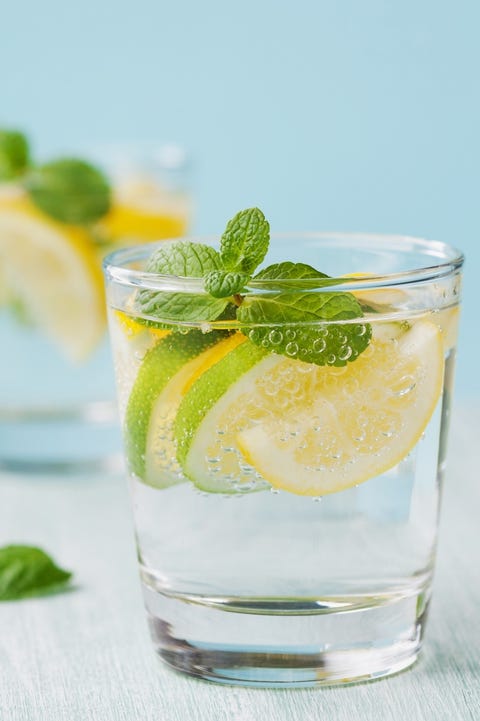 Julia_SudnitskayaGetty Images
30 of 30
Drinks
Stay hydrated by sipping on the following calorie-free drinks at anytime: water, seltzer, and unsweetened tea and coffee.
Advertisement – Continue Reading Below
This content is created and maintained by a third party, and imported onto this page to help users provide their email addresses. You may be able to find more information about this and similar content at piano.io
This commenting section is created and maintained by a third party, and imported onto this page. You may be able to find more information on their web site.