Check out these health programs to achieve Adele's glow-up of the century!


For original article click here
It's that time of the year again, when food seems more delicious, and drinks just a little more enticing than usual. We tend to give in to our cravings and let loose as the season of giving calls for celebrations despite the troubles we've encountered throughout the year. The holidays make dieting a struggle, as being surrounded by family and friends makes eating more enjoyable. We could soften the blow and reduce the regret, though, by preparing ourselves for the extra weight we may or may not (fingers crossed) gain from the (small) parties and get-togethers (social distancing style, of course) during the festive season.
One celebrity who shocked us this year with the glow up of the century through her stunning weight loss is Adele. The singer's dedication to changing her lifestyle through consistent workouts and a strict diet obviously paid off, as it drastically improved her overall health.
So what exactly did the multi-Grammy award winner do to get into the best shape of her life ? Let's find out.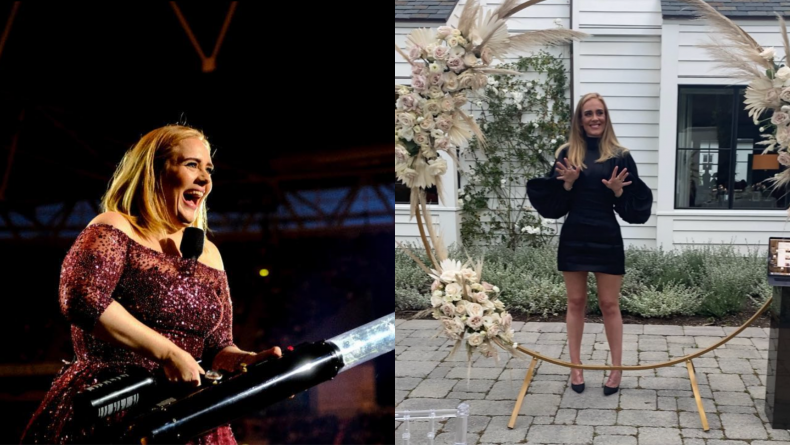 Adele's Instagram
She became more consistent with her workouts.
Adele captioned one of her IG posts in 2019 as "I used to cry, but now I sweat." The singer admitted in one of her past interviews that she was never really a fan of working out, but a mindset shift gave her the motivation to focus. An hour of mixing Pilates with Cardio and Cross-training at least three times a week gave Adele more than enough stamina for her tours, which greatly contributed to her weight loss.
She hired a personal trainer that created a program tailor-fit to her needs, making the workouts less dreadful. She turned that negative association with working out gradually into something positive, letting her enjoy training and its results.
She Focused on the More Important Things in Life.
While shedding off the weight obviously did wonders physically, putting her attention on her son and mental health were even greater motivation to stay fit. News about her recent divorce being the main reason for the drastic change turned out to be false, with Adele reiterating that her goal was not a revenge body (although we have to admit that she definitely achieved that!). Having a son made the singer realign her priorities, wanting to make sure that she set a good example by staying healthy.
The singer admitted on her 31st birthday through an IG post that she was going through a period of growth: "For the first time in a decade, I'm ready to feel the world around me and look up for once. Be kind to yourself people, we're only human, go slow, put your phone down and laugh out loud at every opportunity." While it is a continuous process, the effects of a changed outlook in life have helped Adele look at weight loss as more than just a physical change, but rather a way to love herself. And we are all here for it!
She (Allegedly) Went on a Sirtfood Diet.
While Adele hasn't confirmed anything, countless reports revealed that along with her personalized workout plans, the singer also followed the Sirtfood diet. This fairy new diet program promises to turn on your "skinny gene" by sticking to sirtfoods along with calorie counting to activate the body's sirtuins. There hasn't been any actual confirmation on the effectiveness of the latest craze, although a lot of people have become a fan of the diet because it doesn't restrict you to give in to the occasional wine and chocolate cravings. The promise of immediate loss without compromising muscle mass also makes this diet a shiny beacon of hope, as it offers an easier way to keep yourself fit without deprivation.
Sirtfoods are claimed to regulate bodily functions like inflammation and metabolism and are said to lengthen your lifespan overall. Checking the list of the top 20 sirtfoods will show you how doable the diet is, with red wine, strawberries, dark chocolate, and coffee is among those that could efficiently activate your body's sirtuins.
Want A Body Like Adele? Here's What You Could Do.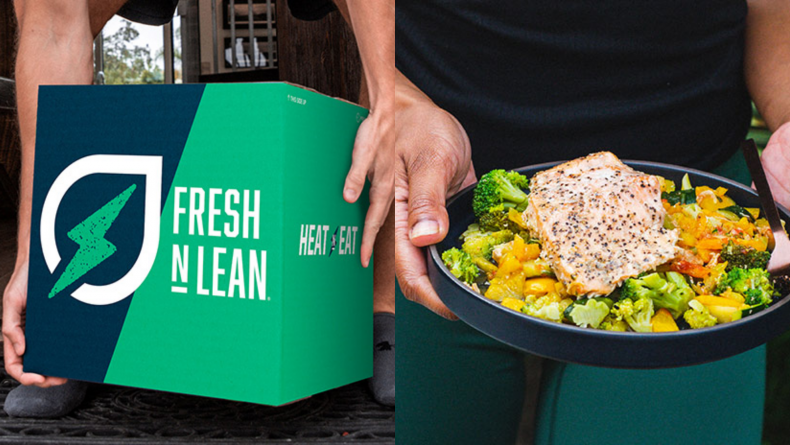 Fresh 'n Lean's Website
As seen in Adele's amazing body transformation, it takes more than just diet – a complete lifestyle change is necessary to achieve actual results. If you're skeptical about the idea of trying the alleged Sirtfood Diet, Fresh 'n Lean offers a variety of meal programs from already proven diets to help you reach your health goals.
You get to choose from six meal plans, each with a description of what they could achieve for your body. From the name itself, the Protein+ Meal Plan lets you load up on your macros without the added stress of prepping and cooking, letting you hit the gym at full energy. Their Ketogenic meals will give you the freshest low-carb, high-fat meals to help your weight loss journey. Other meal plans, like Paleo, Standard Vegan, Low Carb Vegan, and Bulk, lets you tailor-fit your food intake, ensuring you get the right amount of nutrients without the hassle.
How it works, you ask? Simple. The company creates a menu every week to let you skip out on racking your brain for the perfect dishes. You choose the meal plan and customize accordingly (food allergies, number of meals per day, and if you want to exclude certain ingredients). Each meal delivery comes fresh (never frozen) in an insulated and refrigerated vacuum-sealed box. Refrigerate them as soon as you receive the package and pop them in the microwave or heat them on the stove for the most effortless, healthy meals you will ever get.
Change is difficult, but the journey towards self-improvement begins with a single step. Take it one day at a time, and you wouldn't even notice how the small changes in your lifestyle have already compounded into huge improvement. It will be tough, and there will be days where it will feel like it's too much or you're running in circles, but keep your goals in mind and stay focused! You can do it, one small step at a time.
Begin your fitness journey and lessen the regret you might get from the holiday weight gain with Fresh 'n Lean's ready-to-eat Meal Plans. Visit their website now and enjoy the healthiest, tastiest dishes delivered right to your doorstep.
We may earn a commission from links on this page, but we only recommend products we back. Newsweek AMPLIFY participates in various affiliate marketing programs, which means we may get paid commissions on editorially chosen products purchased through our links to retailer sites.