Adele Reportedly Does The Sirtfood Diet—But Can It Help You Lose Weight?


For original article click here
Celeb loses weight. Celeb gets photographed looking different. Fans go wild and are *dying* to know exactly how they did it. Enter: Adele! The singer was spotted last year (and again on a recent vacation in Anguilla) with a noticeably slimmer figure, and people are super curious about the eating plan she reportedly follows: the Sirtfood Diet.
While Adele hasn't spoken publicly about her weight loss, the New York Post claimed that she has lost 50 pounds by following the eating plan (and her name was originally attached to the diet back in 2016). A former trainer of the star also recently told The Sun that she believes the changes in Adele's physique come down to "90 percent diet."
The Sirtfood Diet has allegedly received love from a number of celebs in addition to the "Someone Like You" singer, including Pippa Middleton and famous athletes like former pro boxer David Haye.
The short version: The Sirtfood Diet is said to be rich in foods that contain a particular nutrient that helps trigger genes in the body connected to fat loss and fat storage (more on all this in a minute). And some people say they love it because there are some pretty delicious foods that have these special nutrients (hi, wine and chocolate), so you don't feel deprived.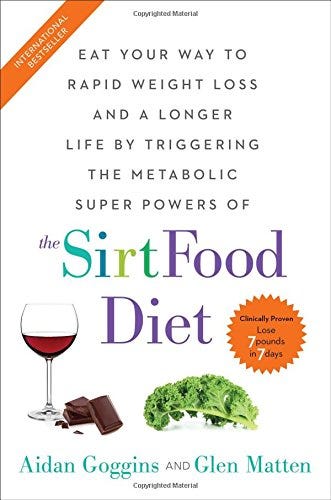 The Sirtfood Diet
Gallery Books amazon.com
SHOP NOW
But…is the Sirtfood Diet too good to be true? Here's everything you need to know about the oh-so-buzzy-right-now weight-loss method, with input from nutrition experts Caroline Apovian, MD, director of the Nutrition and Weight Management Center at the Boston Medical Center, and Edwina Clark, RD, head of nutrition and wellness for Yummly.
First, what is the Sirtfood Diet exactly?
The diet comes from the book of the same name. The authors—Aidan Goggins and Glen Matten—of The Sirtfood Diet advise eating mostly foods rich in sirtuins, a type of protein in plant foods. "The eating plan itself is designed to 'turn on' the sirtuin genes (particularly SIRT-1), which are believed to boost metabolism, increase fat burning, fight inflammation, and curb appetite," says Clark.
Early studies suggest that calorie restriction and resveratrol (a polyphenol found in foods like grapes, blueberries, and peanuts), activate the SIRT-1 gene, and these two principles underpin the Sirtfood approach to eating.
What does the plan entail?
The diet lasts a total of three weeks and is divided into two phases.
Phase one: You limit yourself to three Sirtfood green juices (containing kale, arugula, parsley, celery, green apple, lemon juice, and green tea) and one Sirtfood-rich meal per day, totaling about 1,000 calories each day, says Dr. Apovian, MD. For the next four days, you drink two Sirtfood green juices and eat two Sirtfood-rich meals, which brings your calorie total to about 1,500 per day.
Phase two: This is the maintenance stage, which lasts 14 days. During those two weeks, you're supposed to have three Sirtfood-rich meals and one Sirtfood green juice daily.
Once those three weeks are up, there's no set plan to follow. To continue on the Sirtfood path, all you have to do is tweak each of your meals to include as many Sirtfoods as possible. Exercise is also encouraged (30 minutes of activity, five days a week), but getting sweaty isn't the main focus of the weight-loss plan.
See some of the craziest diets people have actually tried:
​
​
What are "sirtfoods"?
Sirtfoods are any food that is rich is the sirtuin protein, which is type of plant-based protein that has shown some promise in clinical studies to improve metabolic health. Sirtfoods include:
Medjool dates
Blueberries
Coffee
Kale
Arugula
Parsley
Celery
Green apple
Soy
Strawberries
85 percent cocoa chocolate
Turmeric
You can get a complete list of sirtfoods recommended on the diet within the book.
Sooo, can you lose weight on the diet?
The Sirtfood Diet includes many nutritious foods that are beneficial for weight loss, such as celery, kale, green tea, Medjool dates, lean chicken, lean red meat, and parsley, says Dr. Apovian. The diet also restricts or eliminates many foods that are known to cause weight gain, such as refined flours, added sugars, and processed foods with little to no nutritional value. And thanks to that ridiculously low calorie intake, followers will likely lose weight provided they stick to the plan, she says.
"Evidence to date suggests that caloric restriction and intermittent fasting can be an effective strategy for weight loss and improving metabolic health," says Clark. "However, this may not be appropriate for everyone," she says.
Are there any downsides?
The long-term sustainability of this plan is questionable. Once you're past the first few weeks, there's no eating strategy to follow other than adding more Sirtfoods to each meal. This makes the diet much more flexible than most, which is a huge perk, but a three-week long stretch of deprivation could easily lead to overeating during phase two, ultimately placing you back at square one.
Even if you're uber-disciplined, this is still a tough diet to follow. "A mere 1,000 calories will leave most people feeling very hungry," says Dr. Apovian. And if you're not a fan of green juice, a staple of the first week, that will make you even hungrier, she says. Also, since most of the weight loss in phase one is water weight, it will come right back on once you resume normal eating, she says.
Plus, following any diet that doesn't include a healthy amount of protein (e.g., during the first week of the Sirtfood Diet), may result in muscle loss and a slower metabolism, says Dr. Apovian. To lose weight and keep it off, building muscle through eating plenty of protein and working out with weights is paramount.
On top of all that, research on SIRT-1 activating foods is still very much in its infancy, so it's unclear whether consuming polyphenol-rich foods has a substantial impact on weight in everyone. "Weight is a multi-faceted concept, involving complex interactions between our unique genetic makeup and our diet, movement patterns, sleep habits, and emotional state," notes Clark.
Ultimately, eating a diet rich in a variety of healthy foods, including lean protein sources, different fruits and vegetables, and whole grains is a healthier, more sustainable way to lose weight and keep it off, says Dr. Apovian.
The bottom line: The approved foods in the Sirtfood Diet are low in calories and high in nutrients, which is great for weight loss. However, nutritionally speaking, this particular diet is restrictive, which may make it tough for some people to maintain. Talk to a doc you trust about whether the plan is right for you before starting it.
Krissy is a regular contributor to Prevention, and she also writes for Cosmopolitan, Weight Watchers, Women's Health, FitnessMagazine.com, Self.com, and Shape.com. 
This content is created and maintained by a third party, and imported onto this page to help users provide their email addresses. You may be able to find more information about this and similar content at piano.io
This commenting section is created and maintained by a third party, and imported onto this page. You may be able to find more information on their web site.