30 Tasty Mediterranean Diet Breakfast Recipes to Keep You Full All Morning
For original article click here
By now, you probably know just how great the Mediterranean diet is. It consistently ranks among the top diets to follow—perhaps because instead of outlining strict calorie or carb requirements, it's centered on picking filling, nutritious options. Research has shown that following the diet can lower the risk of heart attacks, strokes, and heart failure, and it might even prolong your life.
But the best part of the Mediterranean diet might be that it allows indulgence: Favorites like eggs, olive oil, and fresh fruits and veggies are all fair game for breakfast. (Can you imagine a better breakfast spread?) Here are the basics of the Mediterranean diet, plus tips and tricks for sticking to it each morning.
What is the Mediterranean diet?
Unlike other diets, which can dictate which types of foods aren't allowed, this diet is really more a way of life. "The Mediterranean diet is almost rich in everything," says Keri Gans, M.S., R.D., a New York-based nutrition consultant and author of The Small Change Diet. "We talk about it as a special diet, but it's basically well-balanced, healthy eating where all foods fit."
In the Mediterranean diet, certain foods are emphasized and others are limited (but not cut out entirely). Fruits and veggies, legumes, nuts and seeds, seafood, whole grains, olive oil, low-fat dairy, poultry, and eggs are the staples of the diet, Gans says.
Limited foods, meanwhile, are the ones that you should probably be avoiding anyway: refined grains and oils, red meat, processed foods, and foods with added sugar. "Red meat, [for example,] isn't avoided," Gans explains. "Just eat more fish, poultry, and legumes, and gear your meals more plant-based. Focus less on the saturated fats."
By loading up on the foods listed above, you'll get tons of nutrients at every meal. "The Mediterranean diet is rich in omega-3 fatty acids, antioxidants, fiber, and monounsaturated fats—those are the healthy fats, the nuts, the seeds, the olive oil," Gans explains. These nutrients may play important roles in reducing the risk of heart disease and certain cancers, "one of the biggest benefits" of the diet, according to Gans.
How to build a healthy Mediterranean breakfast
The laidback nature of the Mediterranean diet is good news for home chefs, but figuring out how to create a healthy breakfast—and sticking to that plan as much as possible—can be a challenge. Thankfully, it's almost like a game of mixing and matching, depending on your cravings.
"An ideal breakfast would be two slices of 100% whole-grain bread with two scrambled eggs sautéed with some spinach and tomatoes, and maybe a little avocado," Gans explains. "You're getting healthy fats, protein from the eggs, and whole grains."
But Gans emphasizes that you should feel free to experiment with different veggies, fruits, proteins, and basically anything else. If you're mindful of your ingredients, you can make just about any meal to the standards of the Mediterranean diet.
With the right combination of protein, fiber, and carbs—which you'll get from all of the staple foods in the diet—Gans says, Mediterranean breakfasts will also keep you feeling full, satisfied, and attentive until lunch. "What's beautiful about the Mediterranean diet is that you don't need any fancy formulas, you don't need any math skills [to count calories]," Gans says. "It's just common sense."
Is your stomach growling yet? Make your way through this list, which includes recipes that pack in all of the Mediterranean diet's top foods. (Spoiler alert: You're going to see a ton of eggs and veggies, plus staples like olive oil, cheese, yogurt, fruit, and whole-grain bread. Yum!)
1 Sautéed Dandelion Toast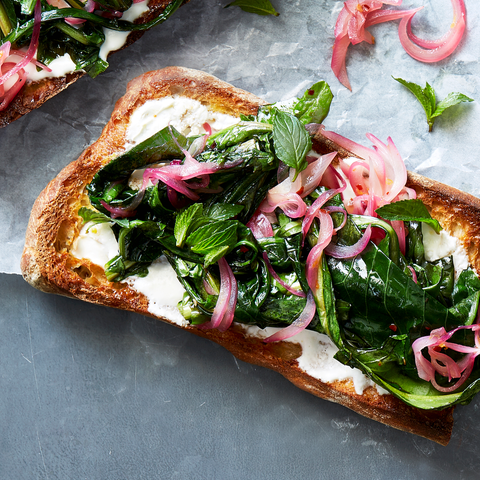 Armando Rafael
Nutrient-rich greens and onions make this toast shine, but favorites like lemon juice, feta, and Greek yogurt on top of whole-grain toast keep it grounded (and super-satisfying).
Get the recipe from Prevention »
2 Spinach and Goat Cheese Egg Muffins
Danielle Occhiogrosso Daly
These egg muffins belong in your breakfast rotation. They're essentially a remix of a Greek omelette, but with more veggies at only 65 calories a pop. One batch can last a whole week, too!
Get the recipe from Prevention »
3 Chard Breakfast Skillet with Egg, Onion, and Tomato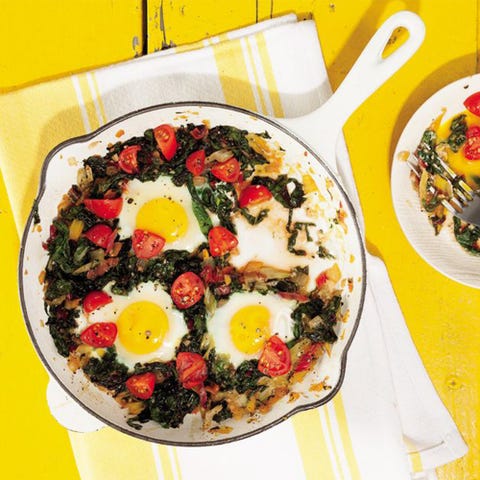 ZACH DESART
You'll find even more greens (plus tomatoes, onion, garlic, and eggs) in this super-easy skillet, which makes eating Mediterranean food both fun and about as healthy as it gets.
Get the recipe from Prevention »
4 Snow Pea and Ricotta Toasts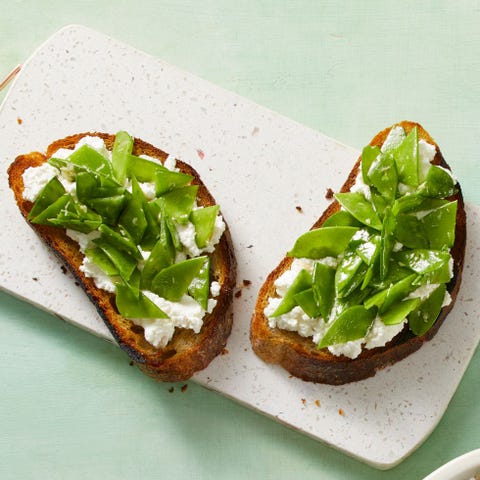 Mike Garten
This recipe, just like the Mediterranean diet itself, places veggies front-and-center. In this case, snow peas provide plenty of fiber and folate, while ricotta and honey add a dash of sweetness.
Get the recipe from Prevention »
5 Grain Bowl With Sautéed Spinach
Mike Garten
For a light breakfast that's still filling, throw together avocado, tomato, leftover grains, and a fried egg. This recipe is also dairy-free, in case you happen to be cutting back.
Get the recipe from Prevention »
6 Sheet Pan Egg Tacos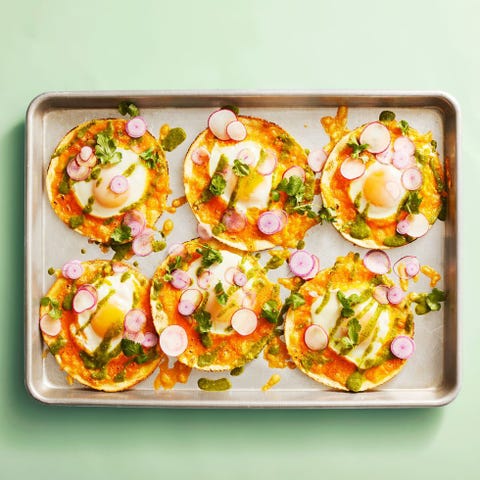 Mike Garten
These tacos have a flavor profile that's more Tex-Mex than Mediterranean, but they fit right in with the crowd, thanks to eggs, dairy, olive oil, and plenty of veggies.
Get the recipe from Prevention »
7 Savory Spanish Oatmeal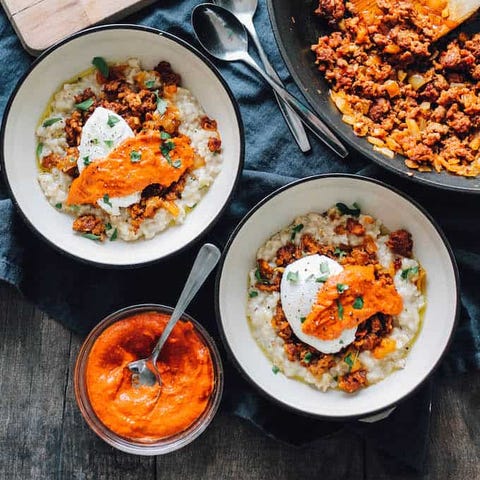 Destination Delish
Ever had savory oatmeal before? This low-calorie breakfast features plenty of those all-important whole grains in the form of oatmeal, plus a plant-powered sauce you'll want to put on everything.
Get the recipe from Destination Delish »
8 Blueberry-and-Mixed Nut Parfait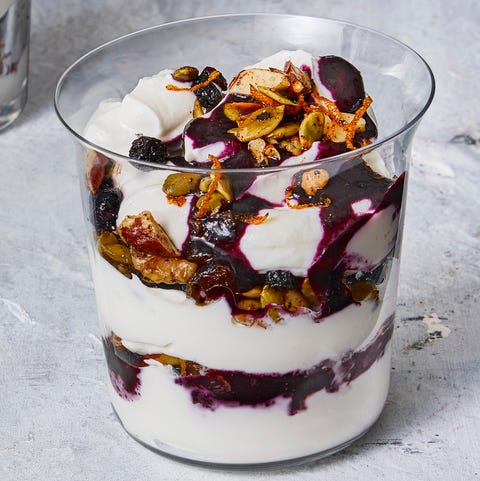 Mike Garten
Tired of veggies in the morning? Indulge your sweet tooth without breaking your diet with this parfait, which makes the most of berries, nuts, seeds, and protein-rich Greek yogurt.
Get the recipe from Prevention »
9 Traditional Shakshuka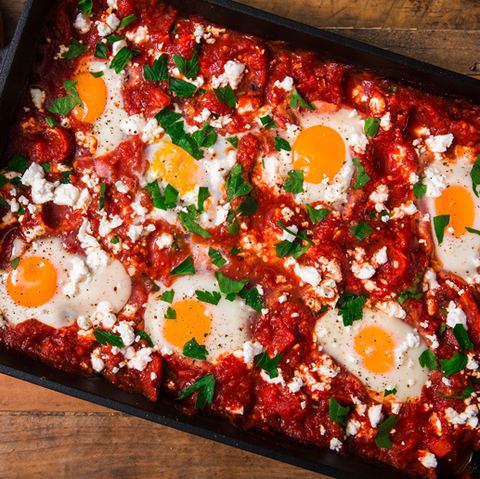 PARKER FEIERBACH
Shakshuka is a centuries-old Mediterranean favorite that could be eaten at any meal, but makes an especially good breakfast on chilly mornings. It's basically eggs in tomato sauce—perfection.
10 Salmon Hash with Sunny-Side Up Eggs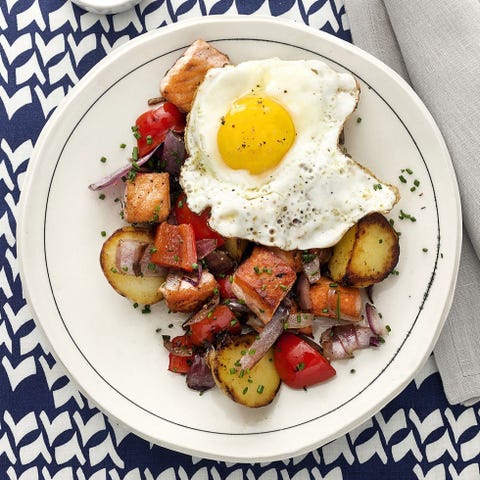 Charles Masters
Eggs and salmon, two staples of the Mediterranean diet, make for a filling breakfast, especially when combined with diner favorites like potatoes and peppers.
Get the recipe from Prevention »
11 Savory Lentil Waffles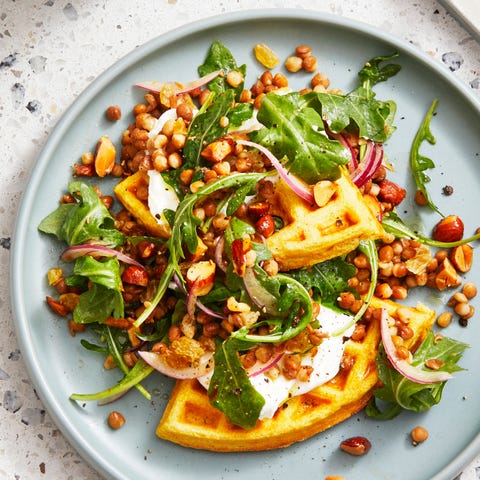 Mike Garten
Take waffles in a new direction with these plant-powered breakfast treats. You'll eat an entire salad's worth of lentils, arugula, raisins, and red onions without realizing it.
Get the recipe from Prevention »
12 Spinach-Curry Crepes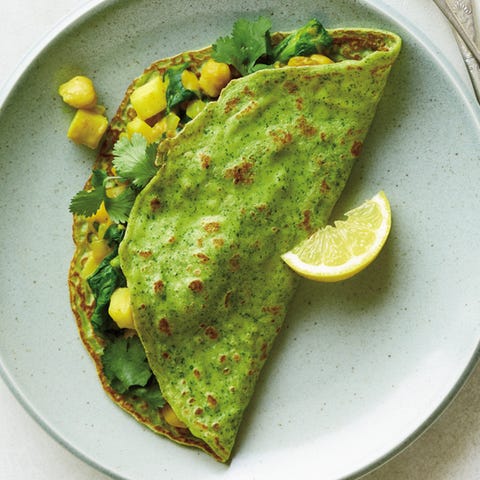 Philip Ficks
For a savory take on the French favorite, combine Mediterranean staples like chickpeas, eggs, and lemons with bright cilantro and spicy curry. It's just about the perfect brunch.
Get the recipe from Prevention »
13 Curry-Avocado Crispy Egg Toast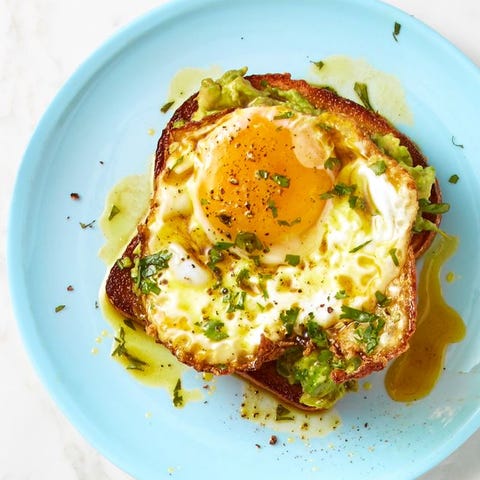 Mike Garten
You've never had avocado toast quite this satisfying before. This recipe upgrades the a.m. classic with lime, cilantro, and flavor-packed curry powder.
Get the recipe from Prevention »
14 Stress Less Smoothie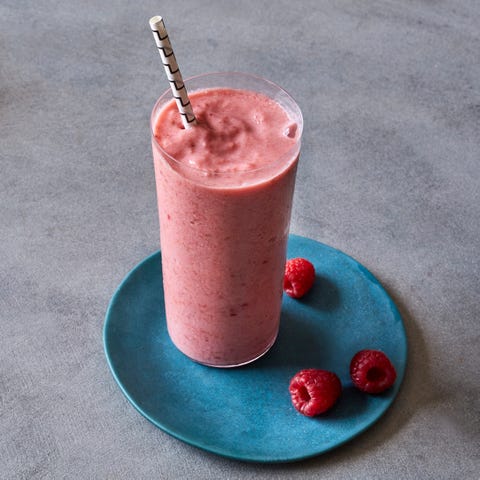 Jason Varney
Like Greek yogurt, kefir is a dairy product that's full of gut-healthy probiotics, but it's thinner, making it ideal for smoothies. Blend it with some fruit and hemp seeds for a surprisingly filling treat.
Get the recipe from Prevention »
15 Healthy Herb Frittata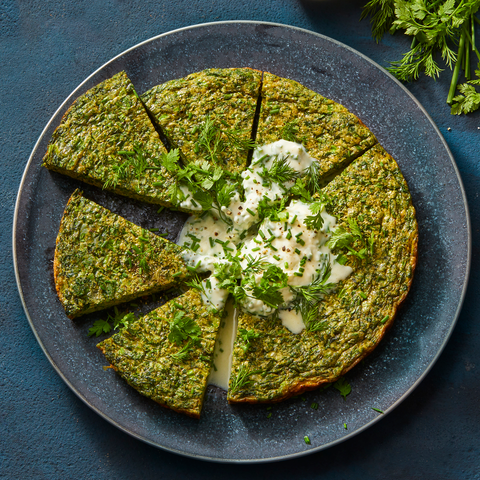 Mike Garten
We bet you've never had a frittata this jam-packed with herbs before. Scallions, parsley, cilantro, and dill pack in tons of flavor (and nutrients), while eggs and crème fraîche act as a savory base.
Get the recipe from Prevention»
16 Salmon Cake Eggs Benedict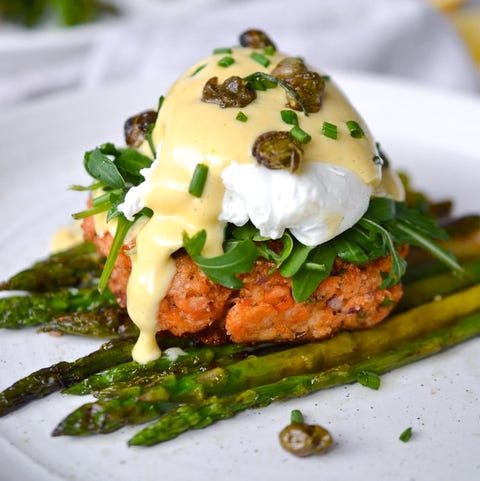 Every Last Bite
Calling all brunch lovers: This meal (made with canned salmon) provides tons of omega-3s, satisfies your egg craving, and packs in tons of plants. You have to try it.
Get the recipe from Every Last Bite »
17 Quinoa, Black Bean, and Avocado Salad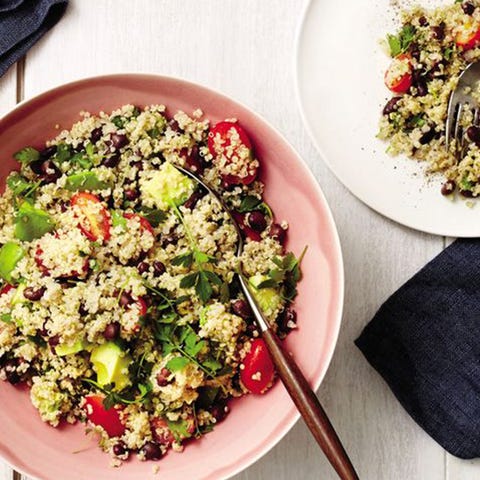 CHRISTOPHER TESTANI
Avocado and tomato already star in countless other morning meals, even if you're not used to eating salads for breakfast—and finished with beans and quinoa, the result is chock-full of filling fiber. Add an egg if you want to make it more breakfast-y.
Get the recipe from Prevention »
18 Butternut Squash & Spinach Toast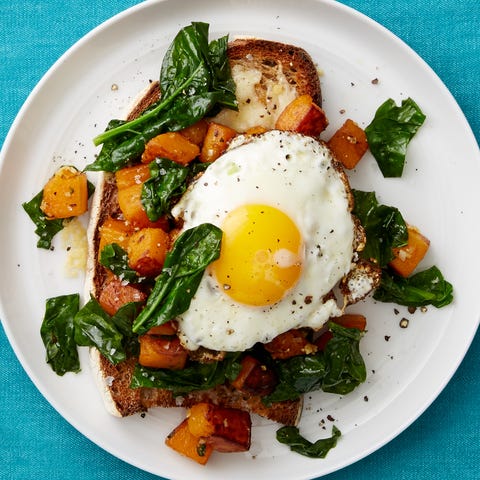 Erika LaPresto
More of a deconstructed breakfast sandwich than a toast, this easy dish takes just 25 minutes and boasts enough protein and fiber to keep you feeling full—while only including 265 calories.
Get the recipe from Prevention »
19 Egg Muffins with Ham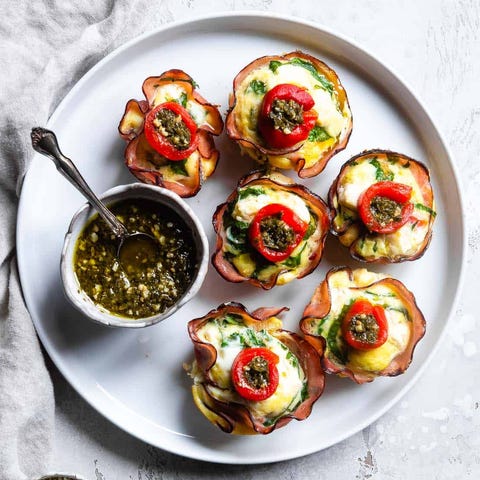 Food Faith Fitness
If you're cooking to impress, these pesto egg muffins—which also act as a delicious appetizer—are savory and filling without being too heavy.
Get the recipe from Food Faith Fitness »
20 Vegan Avocado Smoothie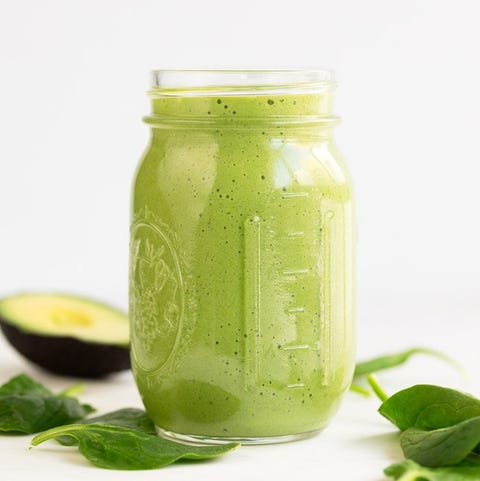 Simple Vegan Blog
Mediterranean breakfasts can be vegan, too! This one makes the cut because it combines spinach, banana, and dates with the healthy fats from avocado.
Get the recipe from Simple Vegan Blog »
21 Sunny-Side-Up Eggs on Garlicky Greens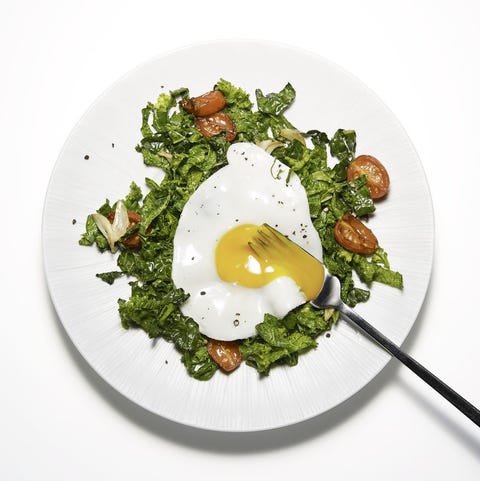 Kenji Toma
You know you'd order this for brunch, so why not whip it up yourself? Tomatoes and your greens of choice make a healthy bed for a perfectly cooked egg. (Bonus: It's also keto-friendly.)
Get the recipe from Prevention »
22 Nectarine Bruschetta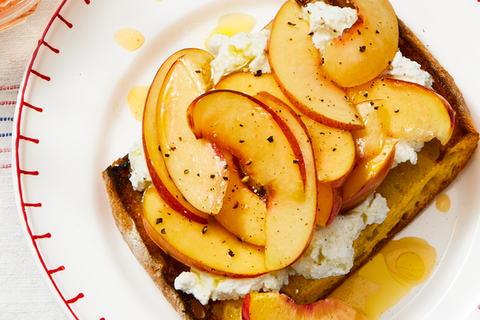 Mike Garten
The Mediterranean diet offers perfect harmony between plants, whole grains, and dairy. What better way to celebrate that balance than with this sweet, sharp toast?
Get the recipe from Prevention »
23 Sweet Potato Kale Frittata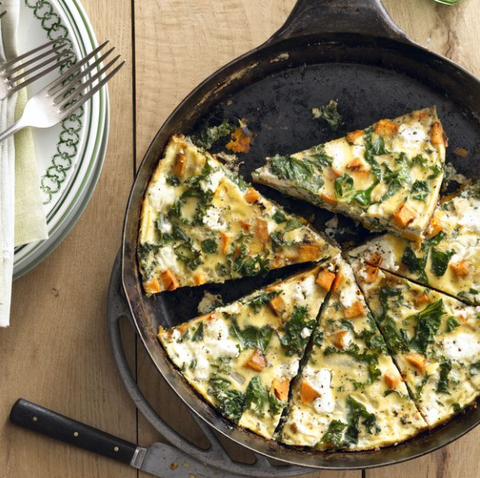 ROMULO YANES
Perfectly blend filling eggs, vitamin A-packed sweet potatoes, fatty olive oil, antioxidant-rich greens, and tasty cheese into one scrumptious frittata that will look and taste way fancier than it is.
Get the recipe from Country Living »
24 Mediterranean Lentil Salad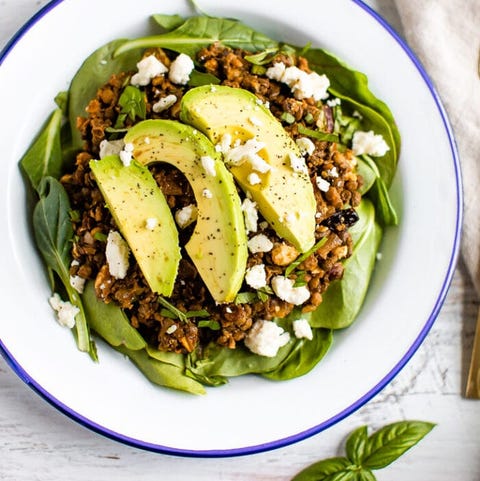 Eating Bird Food
At first glance, this might not look like a morning meal. But favorites like avocado, feta, spinach, and raisins lend a distinctly breakfast-y flavor profile. The lentils will keep cravings at bay, too.
Get the recipe from Eating Bird Food »
25 Tomato and Egg Stacks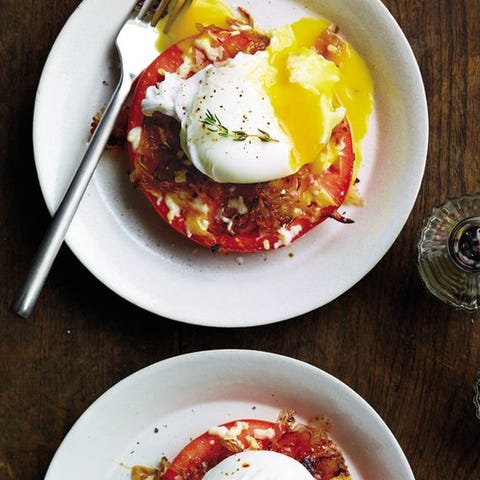 Like a reimagined eggs Benedict, this recipe is particularly high in protein. The acid of the tomato and the smoke of the mozzarella perfectly complement a poached egg on top.
Get the recipe from Prevention »
26 Mushroom, Ricotta and Fried Egg Tartine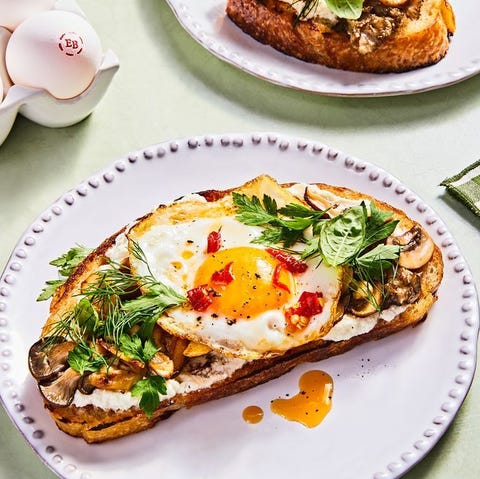 Seriously, toast is one of the easiest ways to fit all the Mediterranean staples into one dish. This tartine mixes different families of veggies: mushrooms, greens, and herbs.
Get the recipe from Good Housekeeping »
27 Cheesy Avocado Omelette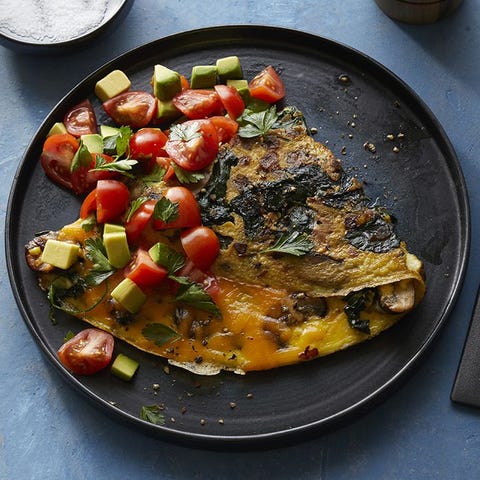 PHILIP FRIEDMAN/STUDIO D
Who doesn't love an omelette? This one is a perfect mix of healthy ingredients, but its main draw is being absolutely packed with protein and fiber, meaning a day with zero cravings.
Get the recipe from Prevention »
28 Vegetarian Breakfast Casserole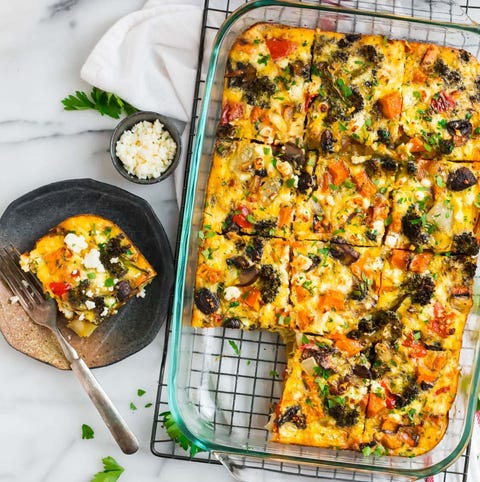 Well Plated
Yep, you can make a casserole for breakfast and still manage to eat healthy. This one hides two sweet potatoes, a head of broccoli, and more vegetables inside. Plus, it freezes up to three months.
Get the recipe from Well Plated »
29 Rosemary Roasted Vegetable Bowls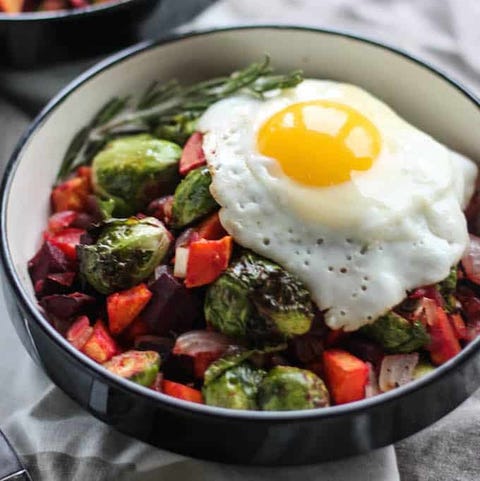 Destination Delish
Brussels sprouts absolutely belong at your breakfast table. Roasted alongside sweet potatoes and beets, then topped with an egg, you'll start craving them in the morning, too.
Get the recipe from Destination Delish »
30 Breakfast Migas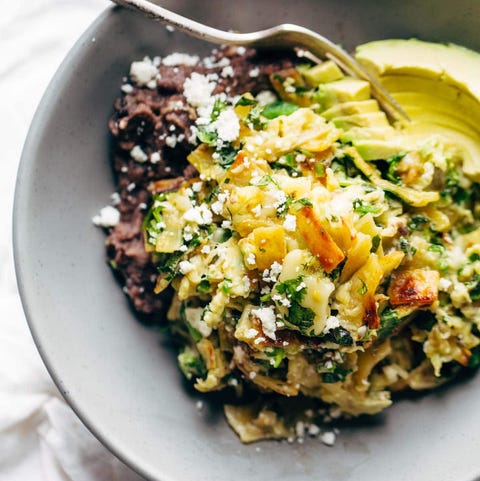 Pinch of Yum
And last but not least, you have to try migas, which brings together scrambled eggs, crispy tortillas, refried beans, avocado, and cheese into one big (Mediterranean!) breakfast.
Get the recipe from Pinch of Yum »
This content is created and maintained by a third party, and imported onto this page to help users provide their email addresses. You may be able to find more information about this and similar content at piano.io