14-Day Keto Meal Plan with Recipes & Shopping Lists
For original article click here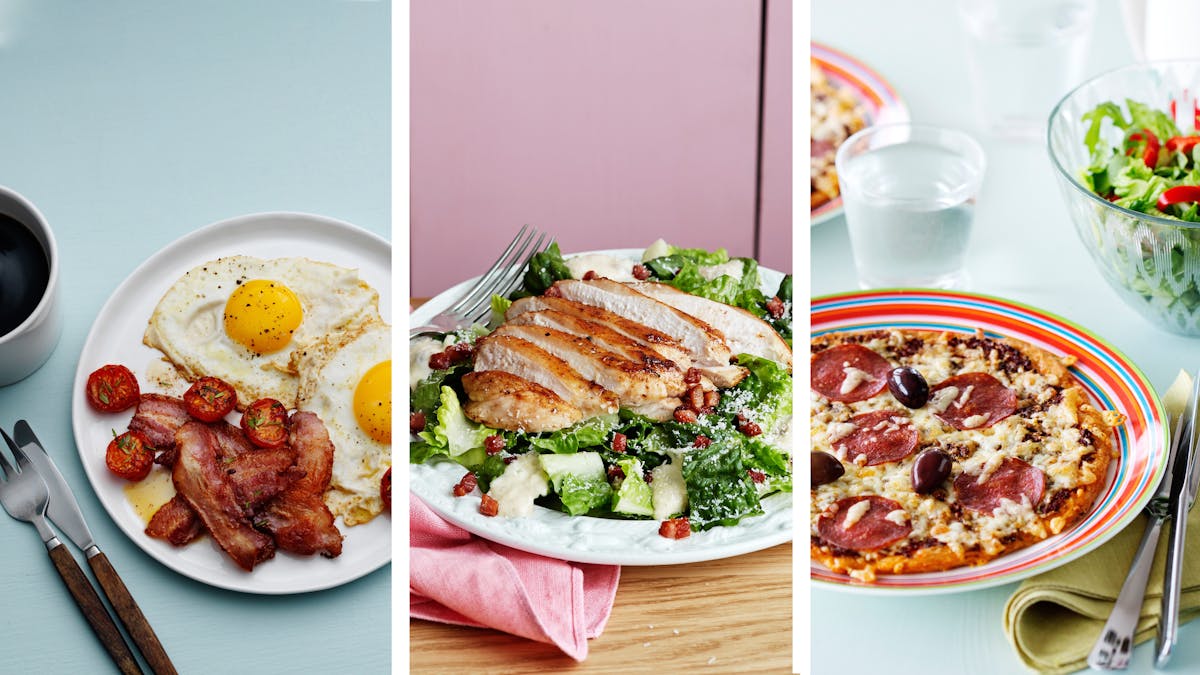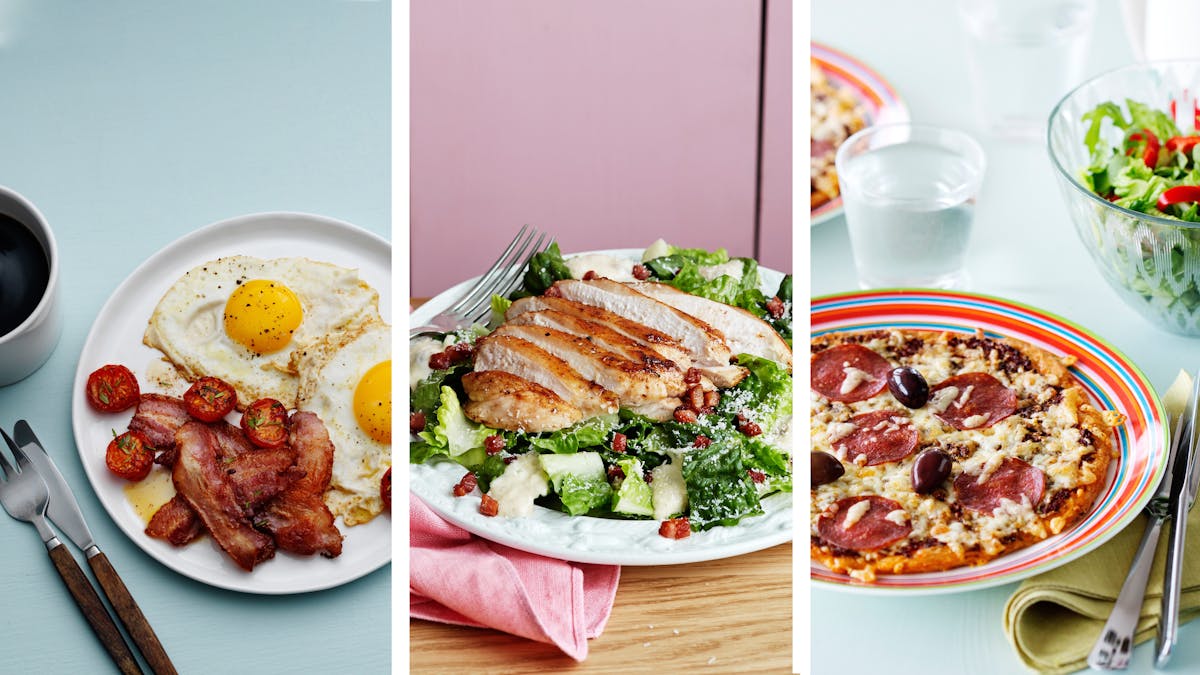 What is a keto diet? Eating keto means limiting your net carb intake so that your body metabolizes fat creating energy and ketones. For many, this requires restricting net carbs to 20 grams per day.1If you're looking to maximize benefits likereversing type 2 diabetesor if you have a lot of weight to lose, the keto diet may be right for you.
If you want more carbs in your diet, and if don't have type 2 diabetes or much weight to lose, then a more moderate low-carb diet might be a better choice for you. Moderate low carb may be easier to follow, but it also may be less effective than keto, meaning you may get more moderate results.2




Top 3 keto cooking tips
Automate breakfast: Choose one keto breakfast to eat every day, like scrambled eggs.3 Not hungry? Skip breakfast and sip a coffee instead.4 This saves time and money.
Simplify with meal prep. Cook two servings for dinner and refrigerate the second serving for tomorrow's lunch. Freeze other portions for later.
Try no-cook plates. Sliced deli meats, cheeses, and veggies make an easy lunch. Here are many more.
Avoid keto flu
Drink lots of fluids and get enough salt, especially during the first week, to minimize symptoms of the initial "keto flu."5 For example, a cup of bouillon 1-2 times per day really helps.6
Want 24/7 support?
Join our supportive Facebook community.
Who should NOT do a keto diet?
A keto low-carb, high-fat diet appears to be very safe for most people.7 However, in the following three situations you may need extra support:
Are you on medication for diabetes, e.g. insulin? More
Are you on medication for high blood pressure? More
Are you breastfeeding? More
If you're not in any of these situations you should be safe to start a keto diet.
Disclaimer:While the ketogenic diet has many proven health benefits (e.g.weight loss,reversal of type 2 diabetes) it's stillcontroversial. Most importantly, there may be a need to adapt pre-existing medications (see above). Discuss any changes in medication and relevant lifestyle changes with your doctor.Full disclaimer
This diet plan is for adults with health issues, including obesity, that could benefit from a keto diet.
Week 1 of the keto diet meal plan
Monday
Tuesday
Wednesday
Thursday
Friday
Saturday
Sunday
Week 2 of the keto diet meal plan
Monday
Tuesday
Wednesday
Thursday
Friday
Saturday
Sunday
Feel free to adjust this sample keto diet plan by making it vegetarian, dairy-free, or choosing from hundreds of other keto recipes.
Shopping lists and more
Do you want to get weekly shopping lists for the 14-day keto diet menu above? Lists that adapt to the number of people you choose to cook for and if you want to skip or change a few meals?
Just sign up for a free trial (no commitment, cancel online anytime) and you'll get these two and 90+ more complete weekly keto meal plans for free:
This meal plan is the first week of our free 14-day keto diet plan. As a member you'll get it complete with a shopping list and the possibility of changing the number of servings. This meal plan will give you a great variety of keto dishes and helps you stay below 20 grams of carbs per day.
This meal plan is the second week of our free 14-day keto diet plan. As a member you'll get it complete with a shopping list and the possibility of changing the number of servings. This meal plan will give you a great variety of keto dishes and helps you stay below 20 grams of carbs per day.
Premium ketogenic meal plans – including shopping lists
Do you want many more weekly keto meal plans and menus, including shopping lists and easily printable recipe guides? Check out ourpremium meal plan tool, available with lots of other bonus material with afree trial membership 
Here are examples of theketo meal plansyou can get. There are alsoquick and easy,budget-friendlyandmany more options. These meal plans require afree membership trialto view.
Keep it simple with this amazing ketogenic meal plan that is packed with delicious meals but only uses just a few ingredients. You get to enjoy three meals per day and you'll still keep below 14 g of net carbs per day. Great, huh?
To make your shopping list even shorter you don't need to use different kinds of cheeses, just go with your favorite one. Mozzarella will work with all of the recipes but if you like more flavor go with a tasty, sharp cheddar instead.
You can also skip fresh herbs and use dried spices and veggies that you already have at home.
This ketogenic meal plan (below 16 g net carbs per day) will keep both your carb intake and your costs down. But don't worry, your taste buds and your satisfaction won't be a casualty of lower costs. These meals are far from boring. And they're filling, too. You won't be hungry between meals — especially if you are keto-adapted and used to intermittent fasting)!
We have focused on affordable low-carb ingredients such as ground beef, chicken thighs, canned tuna, and cauliflower. Then we've added a lot of flavor with delicious cheeses and spices.
If you want to cut costs even more you can replace the avocado in the tuna salad (if you are not lucky enough to find avocados on sale) with more vegetables. A drizzle of some extra olive oil on the salad will compensate for the reduction of fat from the avocado. You can also substitute any of cheeses in the recipes for other types of cheese that you may find on sale.
In this weekly meal plan we are also skipping breakfast to boost weight loss and provide other health benefits. Read more about fasting here. And of course, by skipping a meal each day you are saving even more money, and you're saving precious time, too.
Here's a wonderful weekly meal plan filled with delicious keto-friendly lacto-ovo vegetarian dishes. Three hearty meals per day while keeping the carbs under 20 g per day. This week you're going to eat gnocchi with homemade basil pesto, quesadillas, cheese pie with mushrooms and a lovely goat cheese salad, just to name a few!
Most of us LOVE dairy products in all shapes and forms, but it's possible that skipping or reducing them in your diet could speed up your weight loss and be beneficial for your health. This is because dairy products contain not only milk sugar (lactose), but also milk protein (casein), which stimulates insulin secretion more than many other types of protein, and can trigger overeating.
But skipping dairy for whatever reason does not mean you have to eat boring food! This flavorful ketogenic meal plan is tasty, healthy and will keep you below 17 g net carbs per day.
Want to try intermittent fasting but not sure how to start? Follow Darya's meal plan! A graphic designer at Diet Doctor, she eats a ketogenic diet and works out twice a week. While she enjoys cooking on the weekend, during the weekdays she usually cooks easy, quick meals and often skips breakfast. So this meal plan is perfect if you want to do intermittent fasting (16:8) Darya's way! Then splurge on yummy keto breakfasts on the weekend.
This meal plan keeps you below 17 g net carbs per day.
More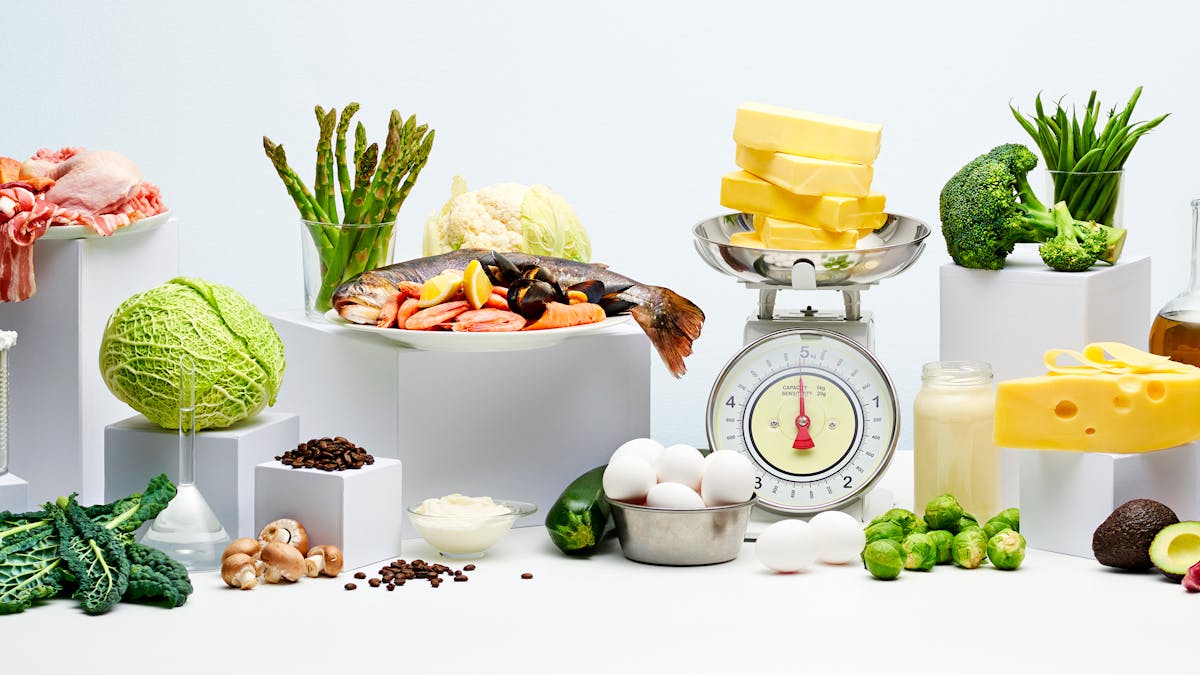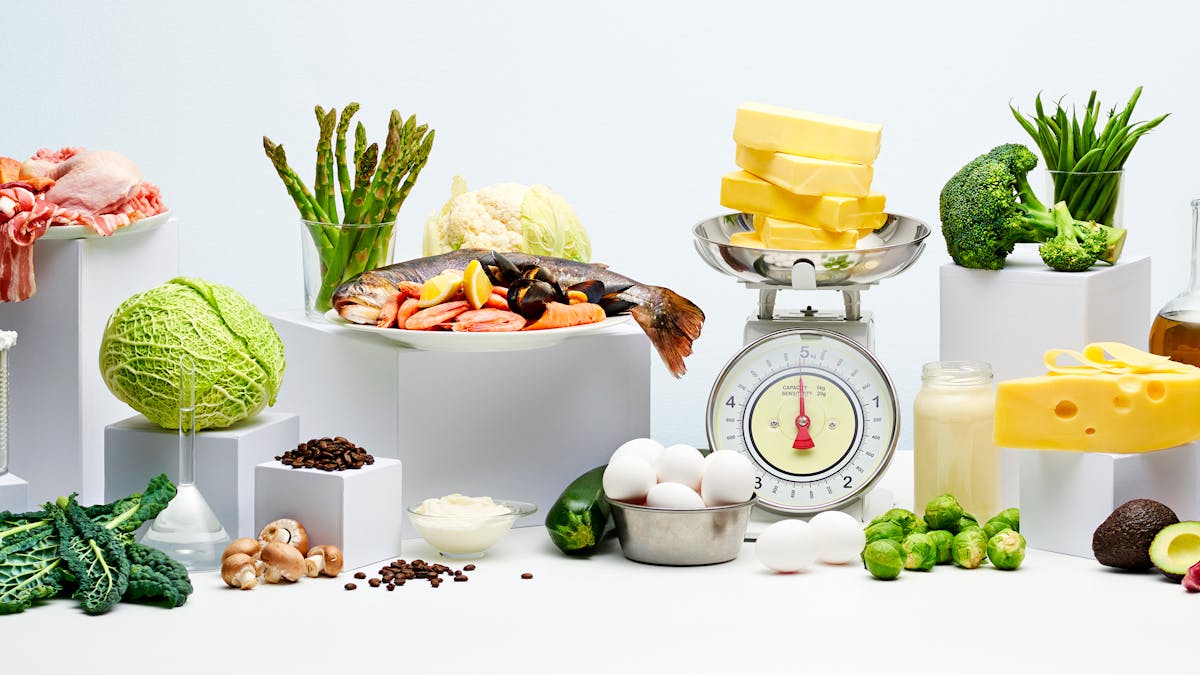 A ketogenic diet for beginners 
Ketogenic diet foods – what to eat and what to avoid 
More keto recipes
Get started
For everything you need to get started – keto meal plans, shopping lists, daily tips and troubleshooting – just sign up for our free 2-week keto low-carb challenge:




Updates
Get more awesome keto recipes, free video courses and keto news updates like over 500,000 people:
Keto diet meal plan Q&A
Here are some of the most common questions about our keto diet plan. For even more questions and answers see our full keto diet FAQ.
I don't like meat/eggs/dairy/[insert disliked food]. Can I still do a keto diet?
Sure. Just replace the thing you dislike with something else that is keto-friendly. It's quite possible to eat a vegetarian keto diet, an egg-free keto diet and a dairy-free keto diet – and many other versions.
See our keto foods guidelines
Do I have to count calories on a keto diet?
No, you don't have to.8 Many people get so satisfied on a low-carb, high-fat keto diet – with less hunger – that they automatically eat less and lose excess weight.9 This appears to be especially true if you base your diet on whole foods, and try to only eat when you're hungry.10
Fat burning is also improved on a keto diet.11 This, however, does not mean that you can eat any amount of food and still lose weight. If you eat enough fat, the body will only need to burn that, not your stored body fat. That can stop weight loss.12
Common issues that can trip people up is snacking on delicious cheeses (when not hungry), or eating salted nuts (when not hungry) or eating baked keto goods, keto cookies etc. (when not hungry). It's very easy to keep eating just because it tastes good. If you want to lose weight, try to only eat when you're hungry, even on keto diet.13
Learn more: Should you count calories on a low-carb or keto diet?
Can I drink alcohol on a keto diet?
Yes. But stick to low-carb alcoholic drinks, like dry wine or sugar-free drinks.
What are healthy fats on a keto diet?
Good examples include butter, olive oil, coconut oil, full-fat dairy (including heavy cream) and avocado oil.
Avoid low-fat products. On a low-carb diet like the keto diet, fat burning is significantly increased, and it's OK to eat a higher-fat diet.14
Full keto fats, sauces and oils guide
How few carbs should I target on keto, and should I count net or total carbs?
On a keto diet we recommend below 20 grams of net carbs per day, and that's what our keto recipes are aiming for.15
A keto diet is designed to be a moderate protein diet. However, some people may need to pay extra attention to avoid high protein intake (greater than 2.0g/kg/d) as it may make it more difficult to maintain ketosis. Although there is controversy how real of an issue this is, it may especially apply in the beginning for those who are very insulin resistant.16 However, eating too little protein may also present health issues such as poor muscle development, increased hunger, and lack of essential amino acids.17 That is why we recommend a moderate level of protein intake, defined as 1.2-1.7g/kg/d. See our protein guide.
Using our keto recipes or keto diet meal plans means you do not have to count to stay keto – we'll do the counting for you. You can also follow our keto foods guidelines, and you can fairly easily stay on a keto plan without counting the carbs (though it may still be smart to count once in a while, just to make sure).
Got more questions? Our Facebook group has answers.